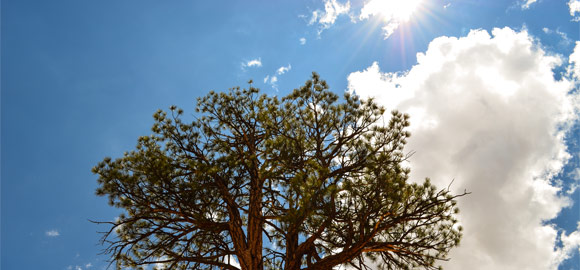 Here's the fifth post in a series from the road trip to Bryce Canyon that took place over the weekend of July 13th and 14th, where I attended the Bryce Canyon Half Marathon race. This post is of two birds that I photographed while at the Rainbow Point overlook at Bryce Canyon, the previous posts covered Bryce Canyon Up Close, Bryce Canyon Vistas, Heavens of Zion, and Bryce Birds. I'll be making at least one more featuring some great macros.
I ended up taking over 1500 photos using a combination of my HTC One phone and Nikon D5100 camera. After going through all of the photos and filtering out the weak ones I ended up with 738 that I posted over my Flickr along with a few videos. Then I went through picked out the best ones to share as wallpapers for your desktop, iPad, phone, and Facebook cover.
Bryce Sky
These photos don't really show off Bryce Canyon, however I felt they do capture some of the same beauty that can be experienced while visiting there.  The first was taken on our hike into Bryce Canyon capturing a beautiful pine tree looking up towards the sky. I love the combination of the sun rays, lens flare, clouds and pine tree to make for a beautiful shot. See the Bryce Canyon Up Close post for other photos from that same hike. The sunset shot was actually captured while driving with my HTC One phone as we were heading to our hotel. Since it was on my phone the desktop size is not as large, however it still works great as a wallpaper.  To see all the photos visit my Flickr and I hope you enjoy these select photos.
Update: Someone pointed out to me on Instagram that the orange circle in the Pine Tree & Sun photo is not a lens flare but something called a spirit orb. Supposedly these are spirits that are captured in photographs. I'm not totally sure I believe that but after a little bit of Googling there might be some validity to it. What do you think?
Bryce Pine Tree & Sun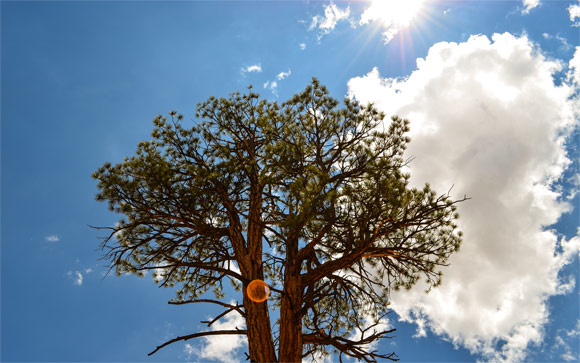 Download Bryce Pine Tree & Sun
Bryce Sunset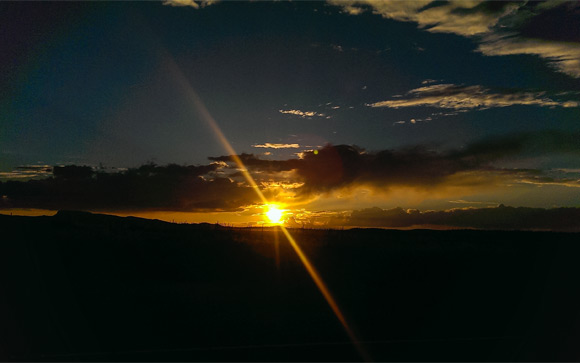 Download Bryce Sunset
Download Bryce Sky
Resources
Have you been to Bryce Canyon? Please feel free to share your thoughts and experiences in the comments below. Thanks for reading and I hope you enjoy the photos.
Subscribe: Get my latest journal entries and blog updates from Majamaki.com by subscribing to my RSS feed or subscribe via email.