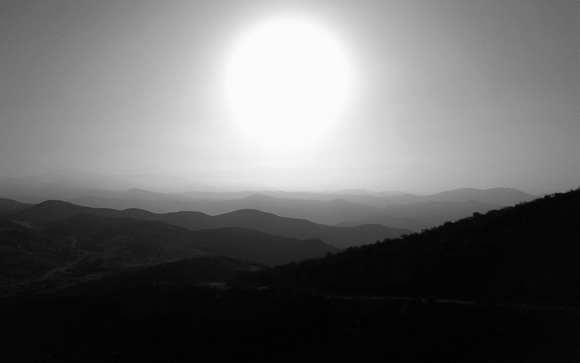 Taking notice of your surroundings and views is part of appreciating life. You don't want to let beautiful things or views pass you by when you can take a moment to observe and appreciate it. I find it those are some of the little things that make our lives more appreciative and brings us peace. Often when I come across those moments I'll whip out my camera or more often, my phone, and snap off a few shots to share them online, usually via Instagram.
On my run up to Tapia Canyon the sky was starting to clear up from the fog and there was a low haze across the skyline that provided some nice depth and layering on the long views of the hills surrounding my running route. After coming up and over the second big hill and turning the corner on the bend I came to this view and had to snap off a few shots to share.
It turned out nice enough to use as a wallpaper for your desktop, iPad, phone, or Facebook cover. I made a few edits such as desaturating it to make it more black and white, plus adding a little bit of grain. I hope you enjoy it.
Download Hazy Hills
Notes On Sizes & HTC One Camera
Going forward I'll be providing the phone size at 1080×1920, this is more adaptable to the various Android phones that utilize a standard high-definition resolution ratio, plus it should still work well on the iPhones too. I just don't want to limit it to only the iPhone size. Also the Facebook cover size will now include the full height of the image instead of being cut off a the exact cover size of 851×315, allowing you to adjust the vertical positioning to your liking, plus when clicking on the cover photo visitors can see the full image.
This photo was taken with my new HTC One phone. While I usually prefer to use my Nikon D5100 for wallpaper images, sometimes it's not always with me and I end up using my phone. The new HTC One uses a new UltraPixel camera that has a larger sensor to capture more light and detail. Part of the trick is using larger pixels.
This is great for regular photos being shared into the social web world where they don't need to be massive photos. However I'm not sure its the best when it comes to utilizing the full size image. The maximum resolution is only 2688×1520, which is big enough for most uses, but not for maximum desktop resolutions like my usual large desktop photos at a  resolution of 3840×2400.
This is the first time I've blown the photo up meet the larger size and at the same time provide the original camera size for those who don't need it so big. Blowing the photo up obviously reduces the quality of the photo, however it is not something that most people will notice unless they have a screen at that maximum resolution, even then, it still looks pretty good.
Wallpaper Sizes:
Original: 2688×1520
Desktop: 3840×2400
iPad: 2048×2048
Phone: 1080×1920
Facebook: 851×532
Hopefully one of the sizes provided will work for your screens and you'll be able to enjoy the wallpaper photos I share. If you have any thoughts on the size or this particular photo please feel free to share your thoughts in the comments below.
Subscribe: Get my latest journal entries and blog updates from Majamaki.com by subscribing to my RSS feed or subscribe via email.