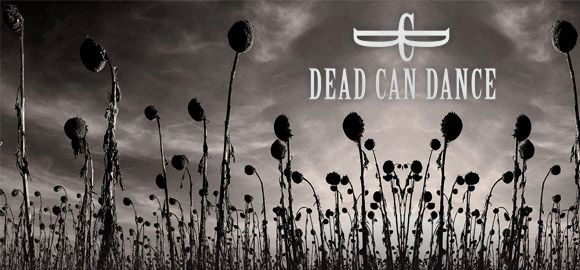 Last night I was able to experience a fairly rare concert by one of my favorite artists, Dead Can Dance. A unique transcending aural experience that can penetrate deep into your heart and soul to fill it with mesmerizing warmth. There is nothing quite like the music of Dead Can Dance lead by the powerful haunting vocals of Lisa Gerrard and Brendan Perry.
The Dead Can Dance Sound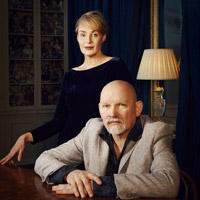 It can be challenging to describe Dead Can Dance, they create an ambient world music style that constructs soundscapes of mesmerizing grandeur and solemn beauty. Mixing in heavy influences of Gregorian chant, African polyrhythms, Gaelic folk, Middle Eastern mantras, Gothic, Etherial, and a dabble of art-rock. Even that does not fully explain their music, this is something you have to experience yourself to understand.
They are very much an underground band with a cult like eclectic fan base of devoted listeners. Drawn in by fans of ambient, gothic, chant, folk, and world rhythm listeners of all ages. Once someone is introduced to Dead Can Dance, they will eventually become hooked into the haunting and hypnotic songs that find their way deep into our heart and soul. I've been a fan since my friend introduced me to them in 1993 with the release of their sixth album Into the Labyrinth
. That album resonated deeply within me and since then I frequently have at least one, if not all Dead Can Dance, albums in my listening rotation.
New Album and Reunion Tour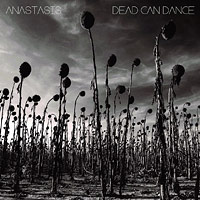 Formed in 1981, disbanded in 1998, and reunited for a world tour in 2005 makes them a rare act to witness in a live concert. I was unfortunate to miss their 2005 tour and after that I thought they would never reunite and tour again. When they announced that they had indeed reunited again and were going on tour with the release of a new album, Anastasis, I jumped to get tickets for the Los Angeles show. I've always wanted to experience them live and this was probably the one and only chance to catch them on tour.
Needless to say I was ecstatic when I got the Dead Can Dance tickets!
It is coming up on 17 years since Dead Can Dance has released a new album, the last studio release was Spiritchaser
from 1996. The fact that they made a new album along with the tour makes it all the more exciting, the new album Anastasis
is out now and sounds just as amazing as their other albums.
The Dead Can Dance Show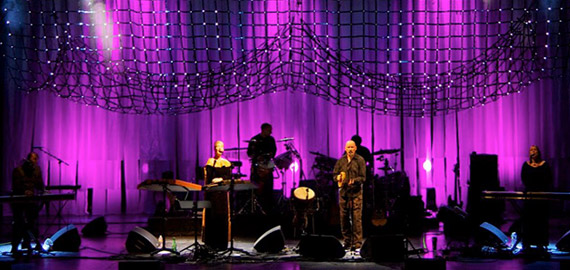 The Los Angeles show was playing at the Gibson Amphitheater at Universal City. A terrific venue for shows as almost every seat in the house has a great view of the stage, plus the sound in there is solid. I got three tickets for myself, Jenny and Ryan. Jenny was already a fan, but Ryan has yet to get into Dead Can Dance and this was something I wanted him to experience. Ryan's music tastes are already wide and varied, much more so compared to when I was his age. While as a teenager he may not be ready to fully get into the band, but this provided a good opportunity to introduce him to this type of extraordinary music.
Half way through I asked Ryan if he's enjoying the show, he turned to me and said "It's a tantalizing experience".
Opening Act
We arrived there a few minutes early and sure enough they opening artist started right at the 8:15pm showtime. Opening the show was David Kuckhermann who played an interesting new instrument called a Panart Hang and Handpans. It looked like a large wok pan or silver metal bowl with indentations around the perimeter, almost looked like a UFO or a metal turtle shell, by hitting or tapping these indentations or around them with your fingers would generate a very unique sound.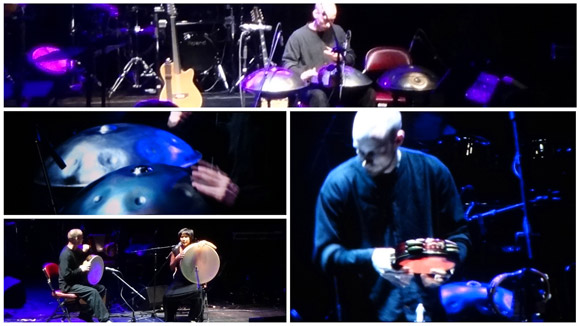 After a few songs he switched to a Riq, a middle eastern tambourin which he magically wielded this instrument alone with his fingers to create a rhythmic drum beat driven song. It was impressive and I regret not capturing a video of it, however check out this solo video to get an idea. To close his opening act set, he finished with his friend Miranda Rondeau who played a large frame drum and sang while he played a smaller frame drum. This song I did capture on video, and you can see it below. I'm always amazed by the music one can produce using only one instrument, and David Kuckhermann showed us his impressive talents.
Video: Dragonfly by Miranda Rondeau with David Kuckhermann
The Main Act
Dead Can Dance started to assemble on stage, as Lisa and Brendan walked on the audience erupted in applause with their delight and enthusiasm to honor the reunited artists. They started off with a new song titled Children of the Sun from their new album, then proceeded to play over a dozen songs compiled from their collection albums. Often alternating songs lead by Brendan or Lisa singing with a few duet songs of them signing together. The amazing thing is, that after so many years, they sounded spectacular.
Every song exploded with energy and power that resonated deeply through the theater into the audience.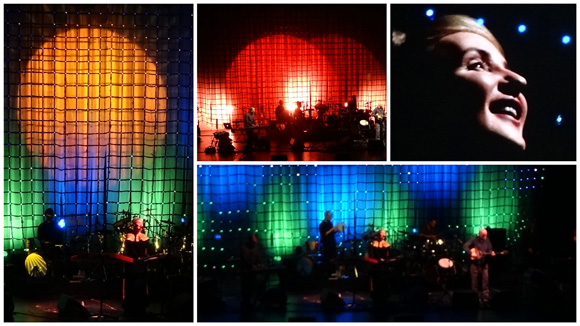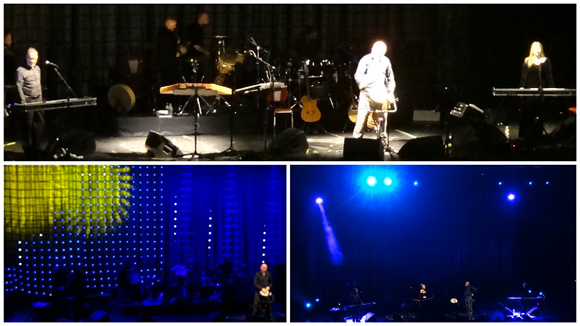 They didn't have any fancy stage show or theatrics, and they don't need it. Their music is powerful enough to let your imagination run wild without the need for any distractions from the stage. This works well for them as they focus on what they do best, making hauntingly powerful soundscapes that tantalize your senses and penetrate your heart and soul for a mesmerizing experience that you'll never forget.
I captured several songs on video using Jenny's Sony Cyber-Shot
camera, while not super high quality, it does an exceptional job at capturing dark low light events in HD size and quality for a compact point and shoot camera. Here are six songs captured from the show (7 including the opening act from above), Anabasis, Sunvean, Niehika, The Ubiquitous Mr. Lovegrove, Dreams Made Flesh (This Mortal Coil cover), and  Return of the She-King. The sixth song got cut off at four minutes due to the camera's battery running out of juice. The sound on these videos turned out surprisingly good and well worth listening to regularly.
Video Playlist: Dead Can Dance
By the end of the show, after the encores, we were in bliss. It was an incredible show to experience by truly unique artists and I'm happy that I was able to share this experience with Jenny and Ryan. An experience that we'll remember for a lifetime and continue to experience through their music. Thank you for the amazing show Lisa Gerrard, Brendan Perry, and Dead Can Dance!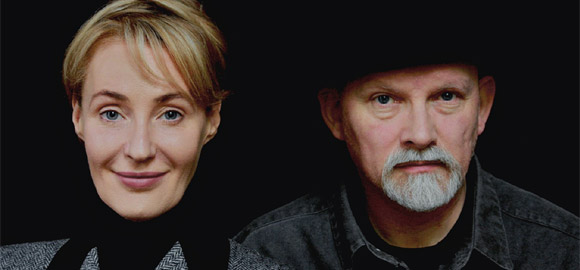 Dead Can Dance Resources
Concert Setlist
Here is the complete setlist from the Dead Can Dance concert on August 14th, 2012, at the Gibson Amphitheater, Universal City, CA.
Children of the Sun
Anabasis
Rakim
Kiko
Lamma Bada
Agape
Amnesia
Sanvean
Nierika
Opium
The Host of Seraphim
Ime Prezakias
Now We Are Free
All in Good Time
Encore:
The Ubiquitous Mr. Lovegrove
Dreams Made Flesh (This Mortal Coil song)
Encore 2:
Song to the Siren (Tim Buckley cover)
Return of the She-King
Encore 3:
Rising of the Moon
Have you experienced Dead Can Dance live? Please feel free to share your thoughts in the comments below and thanks for reading!
Subscribe: Get my latest journal entries and blog updates from Majamaki.com by subscribing to my RSS feed or subscribe via email.