Currently in Southern California we are getting a typical stretch of nice warm weather in the heart of Winter. This week the days have been getting into the 70's and 80's outside. The warm weather always gets me into our yard to see what needs to be done.  While I'm waiting for the cold weather of February and March to kick in so we can get some snow in the local mountains, I welcome the warm weather to do some Winter gardening. It always feels good to get your hands dirty.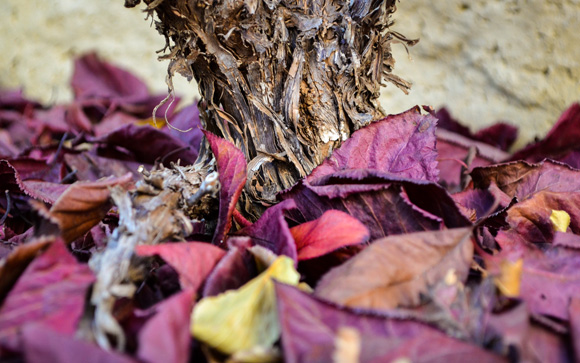 A few weeks ago the last of leaves had fallen off our plum cherry and fruit trees. The ground was covered in these rich purple leaves so I decided that before I rake them all up I better snap off a few photos to see if I can get anything good. I figured with the rich colors and textures of the leaves I would get something decent. Most were ok but nothing too spectacular.
However I felt this one here, once cropped down turned out pretty nice. Between our fruit trees against the wall we have two wine grape vines and the contrast of the leaves against the trunk of the vine turned out nice. At full size the detail is really nice along with the richness of the leaves and the trunk. I've made it available to use as a wallpaper for your desktop computer, iPad or tablet, iPhone or mobile phone, and Facebook cover. You can download each one individually or get them all in one Zip file.
Download Leaves 'n' Trunk
I hope you enjoy this wallpaper, please feel free to share your thoughts on it in the comments below.
Subscribe: Get my latest journal entries and blog updates from Majamaki.com by subscribing to my RSS feed or subscribe via email.