On the morning of the 2011 Santa Barbara Marathon I had noticed from our hotel room that it was going to be a beautiful sunrise. It had rained in the night and there were clouds breaking away to blue skies as the sun was rising. We were staying West Beach Inn across the street from the beach in Santa Barbara. I took a quick walk outside to capture some sunrise photos before we headed off to take Jenny to the marathon start line, she was running the half.
Santa Barbara Marina Sunrise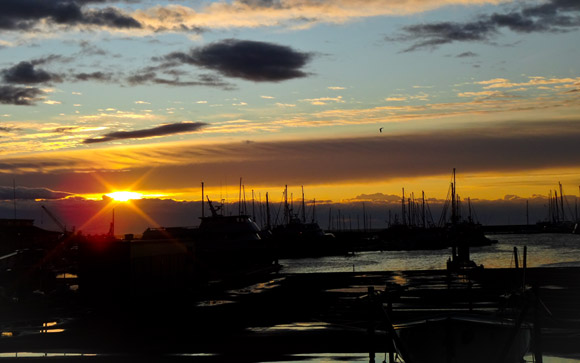 It was a windy morning but gorgeous as the rain clouds were blowing away and the sun was just breaking through the clouds. There were some rain puddles on the ground which added some spots of color and texture against the dark ground which makes for a more dramatic sunrise photo to be used as a wallpaper for your desktop, iPad, iPhone, and now in Facebook Timeline Profile Cover size.
Santa Barbara Sambo's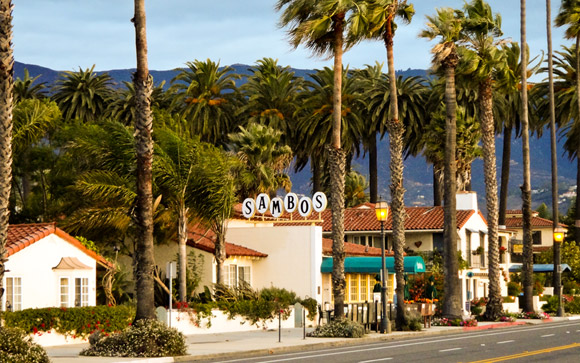 After focusing on the sunrise I turned around and snapped off a few photos of the beach hotels and restaurants. It was windy and all the palm trees were blowing which made for a nice effect. This photo captures and feels like pure Santa Barbara spirit showcasing the classic white structures with clay red roof tiles and palm trees. That combined with the retro Sambo's sign makes for a perfect image to capture that Santa Barbara feeling as a wallpaper for your desktop, iPad, iPhone, and now in Facebook Timeline Profile size.
Download
I've started to submit my wallpaper photos on InterfaceLIFT to help reach a broader audience. Their minimum widescreen size is 3360×2100, so going forward my desktop images will be at that size. Even if your screen isn't that size your computer should be able to resize them to your screen size automatically. For images that do get accepted onto InterfaceLIFT then I will provide a direct link to it where you can download various screen sizes. I'll continue to provide three wallpaper sizes for your desktop, iPad, iPhone, and now in Facebook Timeline Cover size.
Resources
Have you been to Santa Barbara? Please feel free to share your thoughts below, thanks for reading, and I hope you enjoy these two wallpapers for your desktop, iPad, iPhone or Facebook Cover!
Subscribe: Get my latest journal entries and blog updates from Majamaki.com by subscribing to my RSS feed or subscribe via email.