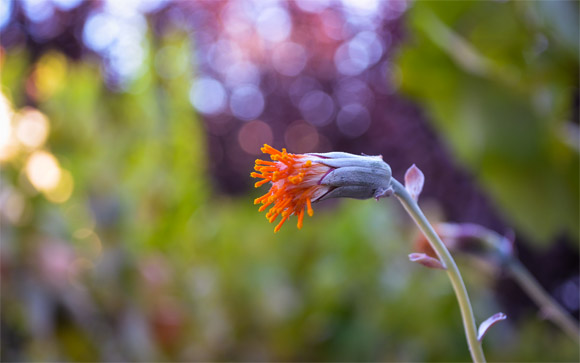 The warm Summer weather has finally kicked in at our home. This week we've hit over 100° degrees each day of the week. While it makes for hot days, once the sun starts to go down the evenings are awesome, turning to nice warm nights to enjoy outside in the yard. This week while doing a little bit of yard work as the sun was starting to set, I noticed one of our hanging succulents had this beautiful little orange and white flowers starting to open up.
At this stage they have these bright orange stigmas that are coming out of the flower pod that will eventually open up to what looks a lot like the last stages of a dandelion. I grabbed my camera and snapped of a handful of photos, this one here turned out the best. I love the subtle pink and purple hues coming from the stem and calyx of the flower combined with rich vibrant orange stigmas of the flower. The blurred green and purple background turned out surprisingly nice as the sun was hitting the trees. That late afternoon into early evening natural light really helped to set the mood and made for a beautiful photo.
I've made it available to download as a wallpaper for your desktop, iPad (now in the new iPad with retina display size), iPhone, and Facebook cover. I hope you enjoy it.
Download Orange Succulent Stigmas
Resources
Do you enjoy flowering succulents? Please feel free to share your thoughts below, thanks for reading, and I hope you enjoy this desktop!
Subscribe: Get my latest journal entries and blog updates from Majamaki.com by subscribing to my RSS feed or subscribe via email.