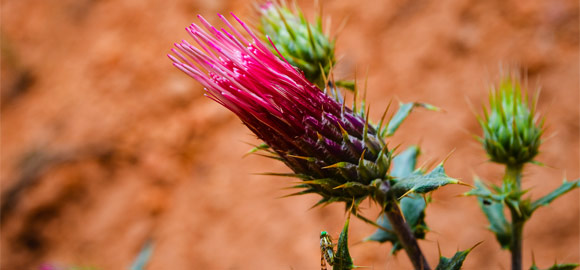 Here's the seventh post in a series from the road trip to Bryce Canyon that took place over the weekend of July 13th and 14th, where I attended the Bryce Canyon Half Marathon race. This post shows off a few of the beautiful details that nature provides, the previous posts covered Bryce Canyon Up Close, Bryce Canyon Vistas, Heavens of Zion, Bryce Birds, Bryce Sky, and Bryce Wood. I think this will be the last post from the Bryce Canyon trip.
I ended up taking over 1500 photos using a combination of my HTC One phone and Nikon D5100 camera. After going through all of the photos and filtering out the weak ones I ended up with 738 that I posted over my Flickr along with a few videos. Then I went through picked out the best ones to share as wallpapers for your desktop, iPad, phone, and Facebook cover.
Bryce and Zion Nature
There were many natural details that caught my eye. There were a few more I wanted to share, such as this dripping moss cave, unfortunately it is a little out of focus, even the moth photo below isn't in perfect focus. However the moth along with the others turned out nice enough to use. The first was the natural vibrant beauty of a thistle flower just a day or so from opening up into a full blooming flower. I love rich color range from the deep fuchsia to the bright pink on the tips. When I took the photo, I didn't even notice the bee until I downloaded the photos, it was a nice surprise. I'm not sure if it is actually a bee or some other fly native to the Bryce Canyon area, regardless the detail is great.
The second shows a butterfly/moth that landed right in front of me as we were hiking back to the car.  The third photo captures the close up detail of the local fir tree needles, I love the detail of the green needles against the blurred backdrop of Bryce Canyon and the blue sky. The last shows off the simple yet beautiful pattern in Zion's rocks. To see all the photos visit my Flickr and I hope you enjoy these select photos.
Bryce Thistle Flower and Bee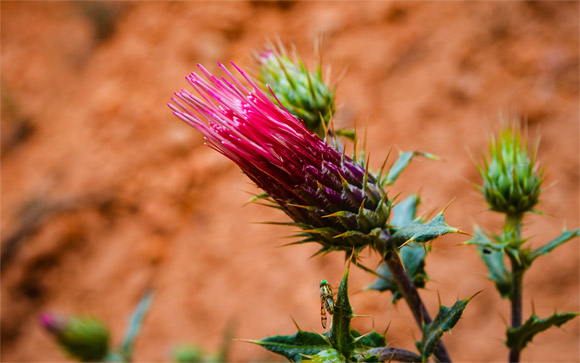 Download Bryce Thistle Flower and Bee
Bryce Moth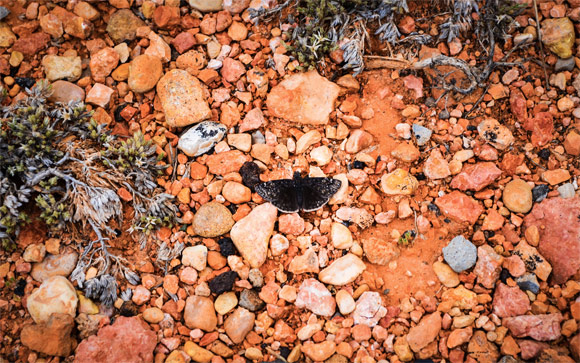 Download Bryce Moth
Bryce Fir Branch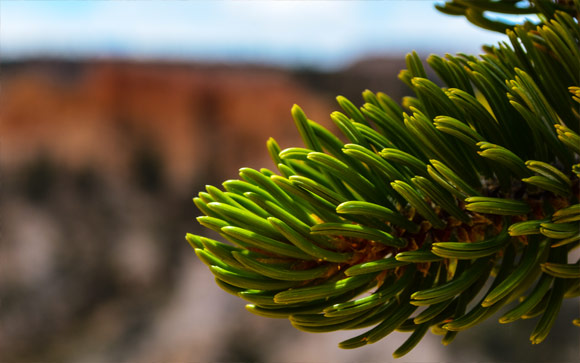 Download Bryce Fir Branch
Zion Rock Pattern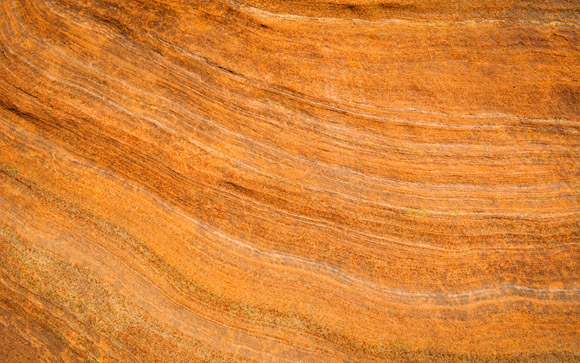 Download Zion Rock Pattern
Download Bryce and Zion Nature
Resources
Have you been to Bryce Canyon? Do you notice the natural patterns and details provide by nature? Please feel free to share your thoughts and experiences in the comments below. Thanks for reading and I hope you enjoy the photos.
Subscribe: Get my latest journal entries and blog updates from Majamaki.com by subscribing to my RSS feed or subscribe via email.