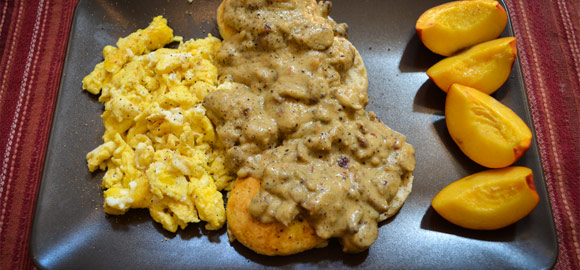 Breakfast is by far my favorite meal to enjoy at anytime of the day. Every now and then when I'm eating breakfast at a café or diner, I see a plate of biscuits and gravy go by that looks delicious. Unfortunately as a pescatarian for the last twenty years I've never found a place that makes a vegetarian version of biscuits and gravy. How could they right? I mean the whole point of the gravy is that it's using all the left over sausage and meats from the previous day. Simmered with lots of black pepper into a thick creamy gravy that is then served over fresh-baked biscuits with a side of scrambled eggs.
A flavorful combination that can be delicious, but rarely vegetarian.
While it is not the most healthy breakfast, I think its alright to enjoy on occasion. I've made a vegetarian version before following the traditional gravy recipe using veggie sausage and mushrooms, however I think I've come up with a great alternative that happens to be a lot healthier and is quite delicious. A few nights ago I was trying to figure out what to make with the fresh head of cauliflower I picked up from the farmers market and a spaghetti squash sitting on my counter. I Googled the two ingredients came across a handful of intriguing recipes. The recipe that caught my attention was Cauliflower Alfredo and Spaghetti Squash and a few variations of a cauliflower and spaghetti squash gratin.
I decided to make a gratin with a few additional ingredients, but using the cauliflower alfredo as the creamy base instead of milk and eggs. So I made the cauliflower alfredo and it turned out to be a lot like a thick cauliflower soup, it was delicious on its own, but you could use it like an alfredo sauce as the recipe originally called for. I made the gratin and had a few cups of the cauliflower alfredo left over. I figured I can have it as a soup or maybe as a pasta sauce in the next day or two.
Then this morning it dawned on me that the cauliflower alfredo could easily be the creamy base for making a vegetarian biscuits and gravy. The consistency of was already like a gravy, so instead of making gravy with milk and flour, simply use the cauliflower alfredo and add in mushrooms, crumbled veggie sausage and fresh ground black pepper. Voila! You've got a killer vegetarian version of the classic biscuits and gravy. So here is my take on a healthier classic breakfast.
The Cauliflower Alfredo (Gravy Base)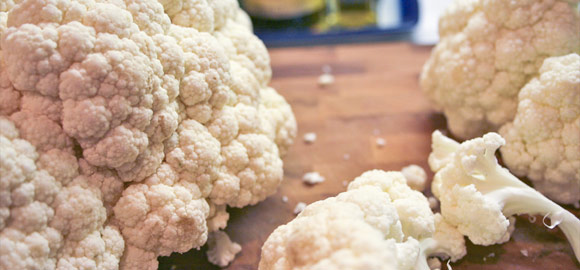 This makes for a great base to be used as sauce over spaghetti squash or your favorite pasta, it is also really good as soup, and you can use it as base for other recipes such as the cauliflower gravy. Note that this can be prepared 1 to 2 days ahead and kept in the fridge.
Ingredients
1 head cauliflower
1 quart vegetable broth
5 cloves garlic
2 tablespoons butter
1 teaspoon salt
1 teaspoon white pepper
1/4 teaspoon fresh grated nutmeg
1 tablespoon olive oil
1 tablespoon honey
2 tablespoons almond milk (optional)
1/4 cup grated parmigiano-reggiano cheese (optional)
1 cup water
Preparation
Add the vegetable broth a medium pot, cut the cauliflower into florets toss into the pot along with the garlic cloves. Bring to a boil and simmer for about 15 minutes until the cauliflower is soft. Once the cauliflower is done, transfer cauliflower, garlic, and broth to a blender or food processor. Add nutmeg, salt, and pepper. You'll probably need to do it in a few batches.
Be careful to not fill it to the top, hot food expands when blended, so only go a little over half full. Use a kitchen towel over the top as you hold the lid down. Start out by slowly pulsing the ingredients and then blend on high for a about a minute. While blending stream in honey and olive oil. The consistency of the sauce should be smooth, if needed, add water to get the right consistency.
Transfer back to the pot and add in butter and the optional almond milk and cheese. Stir until well blended and creamy. Taste and adjust seasoning as needed. At this point you've got a cauliflower alfredo sauce and it will work well with several dishes.
Buttermilk and Black Pepper Biscuits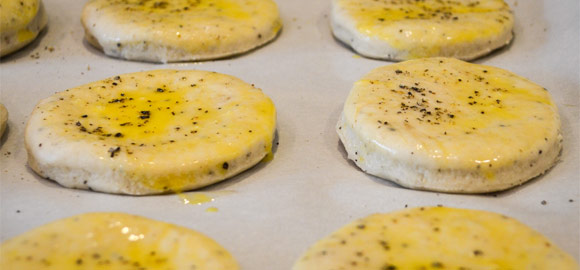 Biscuits are the best when they are made fresh. Sure the pre-made biscuits from the store are alright but nothing is better than homemade biscuits and they are fairly easy to make. Here is a honey buttermilk and black pepper recipe.
Ingredients
2 cups flour
2 1/2 teaspoons baking powder
1/2 teaspoon sea salt
1 teaspoon fresh ground black pepper
6 tablespoons cold butter
3/4 cup cold buttermilk
2 tablespoons honey
1 egg
Preparation
Whisk together the flour, baking powder, salt and pepper. Cut the cold butter in small pieces and mix with the dry ingredients until the mixture is like a coarse grain. You blend it in a pastry blender, food processor, or by hand. Set in refrigerator for 10 minutes. Next in a bowl stir together buttermilk and honey, drizzling in the honey while stirring. Next combine the buttermilk mixture with the biscuit batter and knead together just until the dough forms. Don't over knead it, just bring it together enough for the dough to form.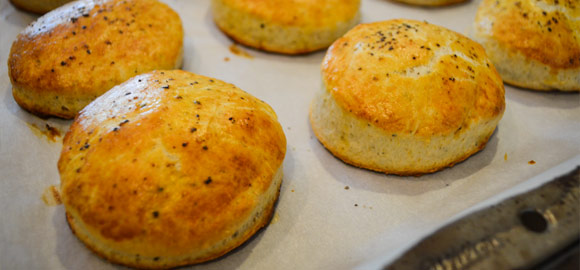 Roll out the dough on a lightly floured surface until it's about 1 to 1 1/2 inches thick. Cut out the biscuits with a circle biscuit cutter or glass. Place on baking sheet lined with parchment paper. Now whisk the egg in a bowl and bush a little on the top of each biscuit with the egg, then crack some fresh black pepper over the tops and bake at 400º for 12 minutes until golden brown.
Cauliflower Gravy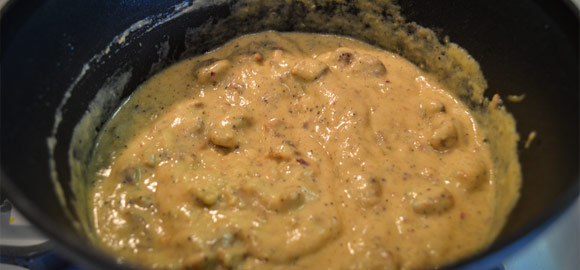 This step takes the cauliflower alfredo and turns it into a breakfast gravy to serve over the fresh made biscuits.
Ingredients
3 to 4 cups cauliflower alfredo
1 cup chopped mushrooms
1/4 cup chopped onions
5 Boca breakfast links
1 tablespoon olive oil
2 tablespoons butter
1 tablespoon fresh ground black pepper
Pinch of the following spices; paprika, cumin, cayenne, and red pepper flakes (optional)
Water or almond milk (optional)
Preparation
In a small pan cook the Boca breakfast links with a little bit of olive oil until done, then set aside for a few minutes to cool. Now in a medium pot sauté the onions in the olive oil until they begin to soften, add the mushrooms and cook until soft. Next chop the breakfast links into small pieces and crumbles, add to the onions and mushrooms, simmer for a minute. Add in the fresh ground black pepper, spices, and butter, let simmer for a minute or two. Next add the cauliflower alfredo. Stir until consistency is smooth and simmer for a few minutes to let the flavors infuse. If too thick either add water, almond milk, or more cauliflower alfredo. Taste and adjust seasoning to your liking. I tend to like a lot of fresh black pepper so I probably doubled the fresh ground black pepper in my gravy.
Vegetarian Biscuits and Cauliflower Gravy
Now that you've got all the ingredients done, take a few of those fresh warm biscuits and split them open on a plate, ladle the gravy over them and serve with a side of scrambled eggs and fresh seasonal fruit. That's a killer breakfast that everyone will enjoy. Not only is it yummy its a lot healthier than making a traditional flour based gravy, plus you're getting a full serving of cauliflower in your breakfast.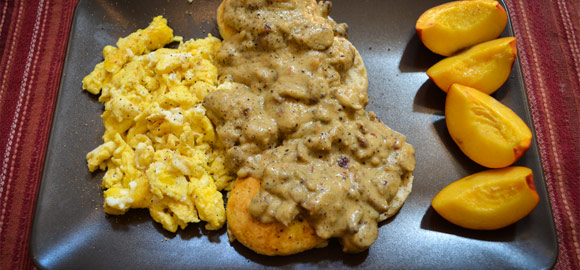 It would be fairly easy to make a vegan version substituting the butter with a vegan margarine and leaving out the Boca breakfast links (they are vegetarian, but not vegan), then adjusting the biscuit recipe to a version that works with almond or soy milk.
I hope you enjoy this recipe and find it useful in your cooking experiments. Please let me know what you think of this recipe, I'd love to hear how it turned, simply share your thoughts in the comments below.
Subscribe: Get my latest journal entries and blog updates from Majamaki.com by subscribing to my RSS feed or subscribe via email.