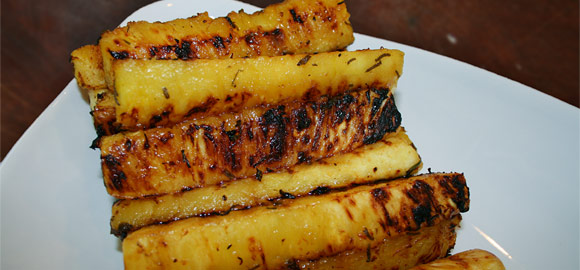 Grilled fruit often comes as a surprise to many people, but it's usually quite delicious. Adding some simple seasonings or marinade before grilling it will often enhance the fruit, bringing out the natural flavors to make for a wonderful side dish or a delightful desert. Grilled pineapple is one that works exceptionally well to enhance your grilled meals. Every time I grill now I have to include this grilled pineapple recipe, it's so yummy!
Grilled Pineapple Recipe
The simple ingredients in this recipe really work well with pineapple and when grilled, they completely accentuate the natural juicy flavors for some of the best pineapple you'll ever have.
Ingredients
1 or 2 Pineapples
5 to 10 Fresh sage leaves
1 Tsp. Vanilla extract
2 Tbsp. Honey
3 Tbsp. Olive oil
Salt & Pepper
Large zip-lock bag
BBQ grill (preferably with charcoal)
Good ingredients are key here, you want fresh sage leaves, good pure vanilla extract, good olive oil and honey.
Preparation
Prepare the pineapple by cutting off the top, bottom, and sides. Then cut it lengthwise into quarters, cut out the core from each quarter. Now cut each quarter in half lengthwise so you end up with a total of 8 pieces from one pineapple. Put  all the pieces in the zip-lock bag and set aside.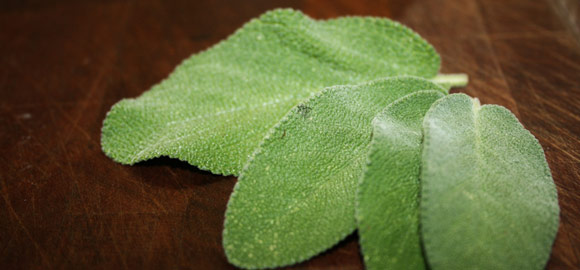 Note: The measurements of the ingredients don't need to be exact, I don't actually measure it, I just eyeball it and adjust until the mix tastes good. 
Take the fresh sage leaves and chop them down, but not too fine. Put the sage into a small bowl, add a few pinches of salt, fresh ground pepper, vanilla, and olive oil, mix thoroughly. Continue mixing while pouring the honey in so it blends in well. Now pour this mix over the prepared pineapple in the zip-lock bag, move the pineapple around to allow the mix to get all around. Now close up the bag, be sure to get as much of the air out of the bag as possible, then set aside for about an hour before grilling.
Grilling
The pineapple is usually served a little warm or at room temperature, so I usually grill the pineapple first before grilling my other items. When the charcoals are nice and hot, the pineapple grilles very quickly. As it sits after being grilled, the flavors compound even more and the natural sugars thicken.
Serving Suggestions
Either as a side to your main grilled meal or as a desert. For desert, it's really good with vanilla Coconut Bliss ice cream topped with caramel, Le Caramel's Sea Salt Caramel Cream works exceptionally well, the combination of the three makes for a fantastic desert!
Recipe Inspiration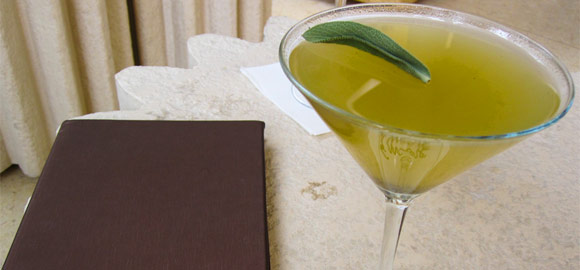 I got the inspiration to combine the flavors of sage, vanilla, and honey with the pineapple from this delicious cocktail that Jenny and I enjoyed at the Eastside Lounge in the Wynn Encore in Las Vegas. We were there to get married and Jenny was running the Rock 'n' Roll Half Marathon. The cocktail combined flavors of pineapple, sage, honey, and spices into a killer drink to be enjoying in the afternoon on their outside patio.
Have you enjoyed grilled pineapple? Please feel free to share your thoughts in the comments below and I hope you enjoy the recipe!
Subscribe: Get my latest journal entries and blog updates from Majamaki.com by subscribing to my RSS feed or subscribe via email.