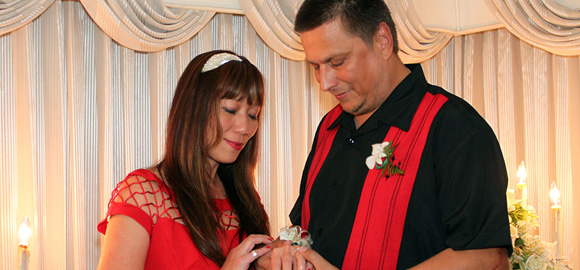 One year ago on December 3rd, 2010 I got married to the love of my life, Jenny. This is after living together for over nine years. We recently passed our ten-year mark last August. Being able to share life with Jenny over the last ten years has been some of the most memorable and enjoyable years of my life. Yet I feel like we are just getting started in our lives together.
This past weekend we celebrated our one year anniversary in Las Vegas, where we got married. It was a two-fold trip, Jenny and many of her Half Fanatic friends were running the Las Vegas Rock 'n' Roll Marathon which was happening at night in 40° cold weather. However the day before the run, on our actual anniversary date, we went out and experienced the Cirque du Soleil show KÀ at the MGM Grand. It was an impressive show. The entire stage moved and rotated, a few times it was completely vertical with performers doing their performance off it. It was very impressive and we both enjoyed it a lot.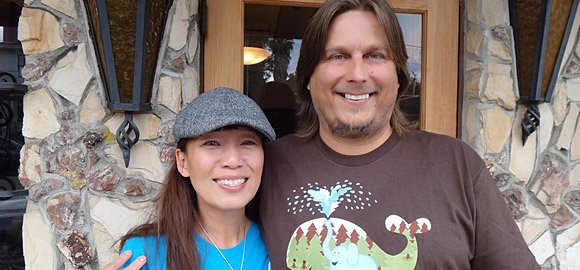 How We Connected
We met through work, a company called Interactive Gallery, Inc. or more commonly known as iGallery which is no longer around. I had been working there for several years and at the time Jenny started I was an Art Director in their online department. Jenny came on board as a Senior Web Designer. At first Jenny and I were working on different floors, so we didn't really to know each other. Then a few months later, the company moved into a new office and we were all on the same floor and office.
One day Jenny came into the office kitchen around lunch time while I was making myself a sandwich, I offered to make one for her. At first she looked at the ingredients and thought the meat I was using was real meat, however I've been a vegetarian since the early 90's and I told her it's a vegetarian sandwich with veggie meat. I had no idea that she was a vegetarian, but once she heard that she accepted my offer for a veggie sandwich. It was at that point where we connected and became friends. From there our friendship grew and over time one thing lead to another and before you know it here we are ten years later living our lives together.
Since both of us had been previously married we were not big on the idea of getting married when we first started living together. It was more important that we simply lived life together, we had each other, and we were able to overcome any challenges that life would throw at us. Building our relationship and love is what really mattered to us. After about eight years we finally started talking about marriage. When we finally did get married we just went off and did it without telling anyone until it was done.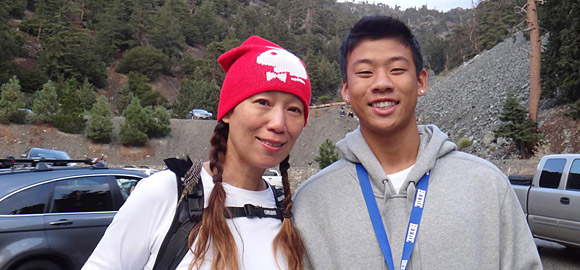 Ryan
Jenny's son, Ryan, was from her previous marriage, who is now 16 years old. While Ryan does not live with us full time, he does usually live with us about every other weekend, also when he is on vacation from school. For me, it has been a great privilege and a very rewarding, joyful experience to witness him growing up. Over the last few months he got his driving permit and we've been letting him drive all the time, even on a recent road trip up to Northern California, he drove most of it. He's picked up driving very well, a natural. Ryan is growing up to be an amazing young man and I look forward to continue sharing life with him.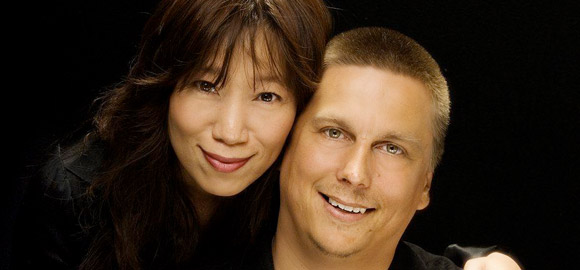 Looking Forward
It is amazing how fast time can fly, ten years went by so fast. It seems like we've barely got our lives going. While we have grown our careers, we do have goals for our future that provides more support for our love of each other and our family while being able to live our lifestyle. We want to live a simpler life and spend more time together. We are starting to make plans to reach our goals and work towards them. No mater what the most important thing for both of us is having each other and sharing life together.
A Few of My Favorite Photos
Loving Jenny
Anyone that has met Jenny knows that she is very special. She is a wonderful, kind, and generous person who exudes positive energy that is very contagious when your around her. She is an inspiration to all of us and I am grateful to be able to be a part of her life and for us to share our lives together.
Thank you Jenny for being such a wonderful person and my soul mate in life. I look forward to continuing our amazing life together.
I love you.
Subscribe: Get my latest journal entries and blog updates from Majamaki.com by subscribing to my RSS feed or subscribe via email.