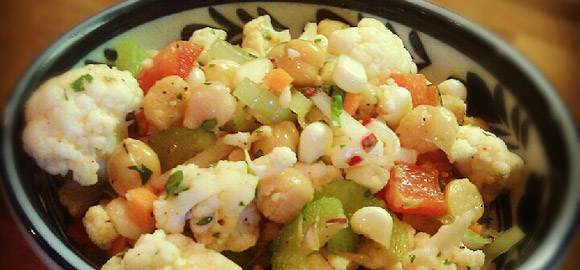 In the warm summer days, nothing is more refreshing than a cool raw vegetable salad. The crisp crunch of vegetables that have marinated in a vinegar base dressing for a little while help cool your body while feeding it good nutrition. The same day I made the roasted squash soup, I also made a raw veggie salad. I frequently make some variation of this with whatever vegetables we have in the house or picked up from the local farmers market. The great thing is you can mix it up with your favorite veggies. The important thing is it gets you and your family to eat more raw vegetables, which is really good for you.
Raw Vegetable Salad Ingredients
You don't need to use all these ingredients at once, it a good idea good to stick with 4 to 7 ingredients. I'm listing all the different ingredients that I've used and work well for this type of salad. Only use fresh whole ingredients, nothing prepared, frozen, or canned, with the exception of the beans. It's okay to use canned beans, just wash them throughly.
Raw Vegetable Ingredients
Cucumber
Red onion
Celery
Carrots
Bell pepper; preferably red, orange, or yellow
Tomatoes
Radish
Corn
Fennel
Cauliflower
Broccoli
Zucchini
Jicama
Edamame
Green apples
Spicy chili pepper, Jalapeño, Serrano, or Habanero chili peppers work well (these are optional and only for those who can handle the spicy heat!)
Your favorite canned beans, garbanzo, red kidney, or cannellini work well (this is the one thing that isn't raw, but is often a good healthy addition)
Seasoning Ingredients
Citrus zest and juice, grapefruit, lemon, or lime
Rice wine or red wine vinegar
Extra virgin olive oil
Cumin
Paprika
Mustard powder
1 fresh herb; Italian parsley, cilantro, dill, anise/fennel, green onion, or thyme work well
Freshly ground pepper
Salt
Toasted sesame seeds (optional)
Cayenne pepper (optional)
Red chili flakes (optional)
Garnish Ingredients (optional)
Avocado
Toasted nuts
Fresh herbs
Boiled egg
Raw Vegetable Salad Directions
Once you have picked out your vegetables, get large bowl and start chopping. I almost always use the same base vegetables of red onion, cucumber and carrots. Hard vegetables like carrots and fennel should be thinly sliced and then either julienned or cubed. All other veggies can be chopped to cubes about an inch or less. For fresh corn just cut off the cob, fresh broccoli and cauliflower, cut and break the florets down to small bite size pieces. The cucumbers can have the center cored out if they have a large watery center. Toss everything in the large bowl to help their flavors to start to come together.
Garbanzo Beans
If you're using canned beans, throughly rinse the beans. I like using garbanzo beans, they are really good for you and they add a little bit of creaminess to each bite. Garbanzo beans have a skin on them, I find that removing the skin makes for a better salad, as the skins will naturally start to separate when mixed and they are not very appetizing. If you run the garbanzo beans in a strainer under cold water, tossing them around a bit, the skins should start to come loose and pop off, just pick them out by hand. It takes about 5 to 10 minutes to remove the skins this way. Once done, add to the bowl of veggies and toss together.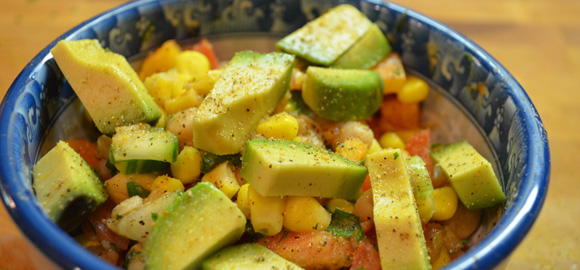 Now that you have all the veggies together, start adding the citrus zest, spices, and herbs. Give it a good toss to allow the spices and herbs to get well mixed in. Last is adding some of the citrus juice, vinegar, and olive oil. You don't need a whole lot, probably about 1/4 cup of citrus juice and vinegar combined, and even less olive oil. You basically want enough to give all the veggies good coating without having them swimming in a big pool of it at the bottom of the bowl. You can also add a little bit of sugar if it's too bitter, about a teaspoon, the sugar will also help the dressing glaze over the veggies.
Taste it and adjust the seasoning to your liking. Don't over season, because the longer it sits the more the flavors come together. You can serve it right away, but it does taste better once you let it sit for about an hour or overnight in the fridge. Now all you gotta do is serve and enjoy. A nice garnish topping is some cubed avocados on top with a sprinkling of fresh herbs.
This makes for a great side salad for lunch or dinner, or even on its own as a mid-day healthy snack. The best part about eating this for a few days in a row, you can feel your body getting happy. The body loves and thrives on raw food. The more raw foods we eat regularly, the better we feel. I usually find that I have more energy, sharper focus, and less hunger. I always make enough to last for 2 to 4 days. Each time you get ready to have some, give it a good toss and serve.
I hope you find this helpful and get inspired to create a combination of your favorite raw vegetable salad. If you do, please feel free to share in the comments below and thanks for reading!
Subscribe: Get my latest journal entries and blog updates from Majamaki.com by subscribing to my RSS feed or subscribe via email.