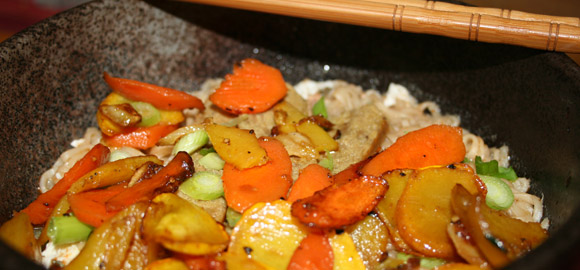 Simple noodles in a flavored broth, usually the hard to find vegetarian or shrimp broth for me.  I grew up occasionally enjoying the basic American Asian wanna-be ramen, the kind you find at your local supermarket that is usually going for .10¢ a bag. A dirt cheap meal to get you fed when times are tough. However it wasn't until I met Jenny, now my amazing wife, who introduced me to real asian style ramen that I've come to really appreciate.
Now I love and crave a good bowl of ramen.
I quickly learned that there are different levels of ramen. I mean there is a world of ramen and noodle soups from various countries to explore and taste. Through Jenny I discovered that in our local asian markets, that's 99 Ranch markets here in the City of Angels, has what would seem to be similar types of ramen that you see in American grocery stores, but they have an entire isle dedicated to it. They are all in Chinese or some language I can't speak or recognize. But none that you would see in an American style store. This can make it exceptionally challenging to find the vegetarian ones when Jenny isn't shopping with me.
The quality of the spices and noodles are so much better with a good amount of variety in each. It's good to experiment and explore the different types of noodles. Noodle are the core of the dish and can make or break it, and trust me, really good noodles are heavenly! Through Jenny I've learned that really amazing ramen is not just taking the contents of the package as is and heating them up in water, but adding various fresh ingredients and spices that will take your average ramen dish to an amazing meal that you will crave.
After many years of learning from Jenny, I've learned to make some great ramen that I really enjoy, and when Jenny makes her style it is always incredibly delicious.   I'm sure you're wondering by now how do we make our ramen?
Our Ramen Ingredients Of Choice
Almost anything can be added to make a fantastic bowl of ramen, here is a list of ingredients we often use in ours.
Garlic*
Carrots*
Mushrooms* (any kind, but shiitake's are great)
Green onion*
Cilantro*
Onions
Ginger
Chili Peppers* (any kind)
Squash
Potatoes
Baby bok choy
Spinach
Kale
Sprouts
Egg*
Asian veggi-meat (duck or ham style)
Sesame seeds
Sesame oil regular or hot
* Denotes staple items that we almost always use.
Now you don't want to add all those items at once, you can, but its better to mix it up each time. Don't be afraid to experiment with different ingredients, especially if you pick up fresh produce at your local farmers market.  However the staple items I noted with *'s tend to always make it into our ramen dishes, regardless if its me or Jenny cooking it.
Ramen Flavors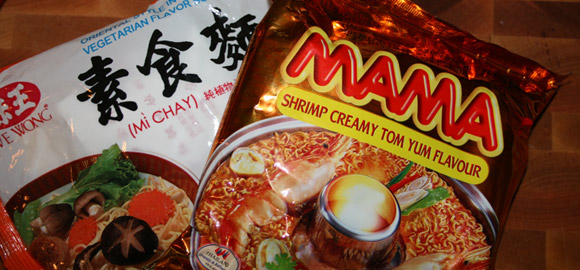 While there are many flavors available, we tend to stick to the vegetarian and shrimp flavors.  While Jenny stick with the vegetarian ones I'll enjoy both the vegetarian the shrimp flavors, especially Mama's Creamy Tom Yum Thai style. I've become very fond of the yummy broth it makes.
Ramen Cooking Style
Overall the cooking style can vary from person to person based on their tastes, but overall its straight forward once you get the hang of it. However there is an art to the timing of cooking your ramen, when you drop in your vegetables, noodles, and the egg.
Go in this order (from my experience):
Water
Spices (your own spices in addition to packet spices)
Garlic
Ginger
Carrots
Mushrooms (plus any other non-leafy veggies)
Noodles
Egg
Baby bok choy/Spinach/Green onion
Giving the noodles and eggs about 4 to 6 minutes to cook, you want the egg yolk to be gooey and thick while still running a bit. Hard eggs are ok, but gooey eggs make it better.
Jenny's Style
Jenny does a more traditional style that turns out amazing.  She pan fries some of the veggies before adding them to the final dish.  Her ramen is usually with little broth, not swimming in broth, and a perfectly poached egg in the broth and noodles.  She'll also add some Asian styled veggie meats or cured salted soy projects to kick up the flavor at the end.  It's always a fantastic meal.
Terry's Style
Usually when making ramen for both of us I make two separate pots, so when I make a pot that is just for me, I go off the charts making it really spicy.  I'll adding freshly chopped Serrano, Jalapeño, or Habanero peppers, along with plenty of hot sesame oil.  As you'll learn, I have an affliction for really spicy food.  I load up on other spices too like fresh ground black pepper, cayenne pepper, and ground mustard.   Then I tend to like a lot of broth to sip and gulp up with my noodles.
Everything else is the same, just be sure to time your noodles and egg properly and you can't go wrong. It does take some practice to get your egg right, but the best tip I can give is DO NOT walk away from the stove or kitchen when cooking. Keep an eye on your food and the times you dropped it in and you'll be fine.
Regardless if you go mild or spicy you'll be sucking down a heavenly bowl of noodles, veggies, egg, and broth. Its worth discovering what how amazing a "cheap" meal can be when done right.
Ramen Resources
Do you enjoy a good bowl of ramen? What is your favorite way to prepare it? Please feel free to share your thoughts below and thanks for reading.
Subscribe: Get my latest journal entries and blog updates from Majamaki.com by subscribing to my RSS feed or subscribe via email.