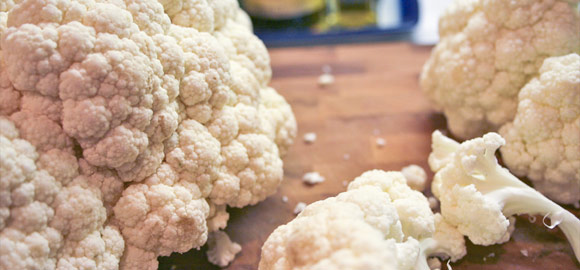 Lately I've been on a cauliflower kick and it has become another favorite vegetable that I've come to throughly enjoy. It wasn't a popular vegetable in my childhood, like many I would avoid it, and even in my younger adult years I never appreciated it. It wasn't until I started to discover Aloo Gobi at Indian restaurants, a dish that combines cauliflower and potatoes with curry based Indian dry spices. Karma, one of our favorite local Indian restaurants makes it exceptionally delicious. Now whenever I see cauliflower on the menu I tend to order it, especially if it is prepared in a new way that I have yet to try.
Other favorite ways to enjoy it are oven roasted, in curry stew, in a casserole, as a soup, and pickled! I've been experimenting at home with different ways to prepare cauliflower with the most recent in pickled cauliflower. After seeing some great pickled cauliflower photos on Pinterest I looked up some recipes and decided to try one out from RecipeGirl.com.
It's easy to prepare and it makes for a great snack, appetizer, or even a side dish.
Pickled Cauliflower Recipe
Here is the recipe I followed, it'll take about 20-30 minutes to prepare everything. I ended up using a larger cauliflower and more veggies in a 3-quart jar as I needed to add more brine to mine, so I've adjusted a few the ingredient portions here from the original recipe.
Ingredients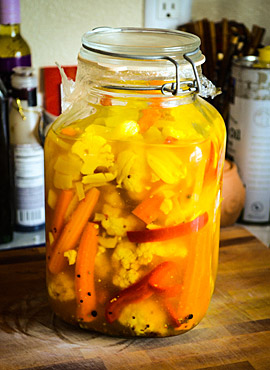 2 teaspoon coriander seeds
2 teaspoon mustard seeds
1 teaspoon cumin seeds
4 cups cider vinegar
2 cups water
5 medium garlic cloves, peeled, and lightly smashed
Three 1/4-inch thick slices peeled fresh ginger
One half small yellow sweet onion, peeled, and thinly sliced
1/2 cup granulated white sugar
3 tablespoons Kosher salt (I used Himalayan Pink salt)
1 1/2 teaspoon black peppercorns
1 teaspoon ground turmeric
1/2 teaspoon red pepper flakes
One cauliflower head, cut into 1 1/2 to 2-inch florets
4 medium carrots, peeled, and sliced into lengthwise 4-inch pieces
1 red bell pepper, cored, seeded, and cut into strips
Directions
Pack the cauliflower, carrots, and bell pepper in a 3-quart jar or bowl.
Add the coriander, mustard, and cumin seeds to a medium saucepan or pot. Toast the seeds over medium heat, swirling the pan around until the seeds are fragrant and slightly browned, about 2 minutes.
Add the vinegar, garlic, ginger, onion, sugar, salt, peppercorns, turmeric, red pepper flakes, and 1 cup water to the toasted spices. Bring to a boil.
Pour the hot liquid, spices, onions, and all, over the vegetables in the jar or bowl.
Let cool to room temperature, then cover, and refrigerate for at least 2 days before tasting. The veggies will keep for up to two weeks in the refrigerator.
This turned out delightfully delicious!
All the veggies were crisp and crunchy with that great pickle flavor. Pickling isn't an exact science, you have the foundation ingredients for your brine, but then you can be as creative as you wish. The use of cauliflower, carrots, and red bell pepper creates a classic combination that works well, the vibrant colors make for an inviting dish that is delicious!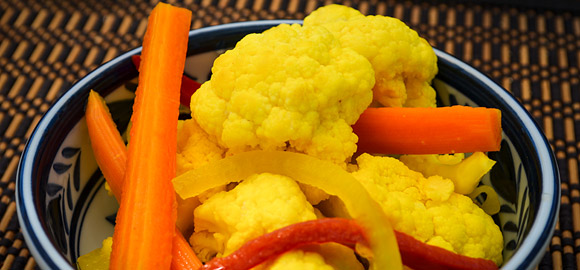 I could easily see trying other ingredients to mix it up for some great flavors or to make different pickled vegetables. To spice it up, try doubling the crushed red peppers and adding sliced jalapeños or for a really spicy treat add sliced Habañero chili peppers. Other vegetables that would work well include radishes, cucumbers, oyster mushrooms, zucchini, brocoli, green beans, okra, asparagus, and beets. The beets will color everything so if you use beets, make it your main vegetable, oh and boil your beets first. I also saw a recipe that made a lemon brine and used sliced lemons with your veggies, I'll have to try it out. Just be creative and make what you like, but don't go crazy mixing too many different things at once, it's better to keep it simple with three vegetables at a time.
We ended up eating all the pickled cauliflower and veggies in about a week. I didn't want to simply toss out the good pickle brine and I had boiled some beets a few days before, so I sliced up the beets and dropped them into the pickling brine. After two days the brine turned a deep purple color, you could barely see any of the vegetables, but we now have yummy pickled beets!
So have you enjoyed pickled cauliflower? Please share your thoughts in the comments below and I hope you have as much success with these as we did! Thanks for reading.
Subscribe: Get my latest journal entries and blog updates from Majamaki.com by subscribing to my RSS feed or subscribe via email.