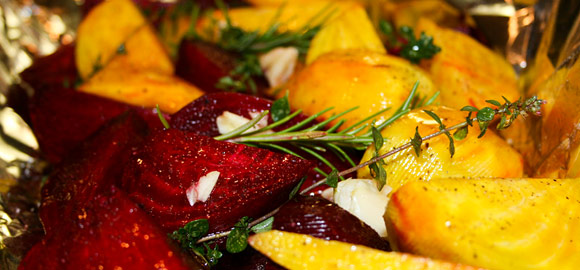 Beets are one of those rare root vegetables that people either love or hate. I'm one of those that love beets, I'll take them anyway I can get them, canned, boiled, roasted, fried, pickled, and definitely juiced. I always pick up fresh beets at the local farmers market, usually both red and gold beets. My favorite ways of consuming the beet roots are roasted or juiced, the top greens I usually sauté with garlic, herbs, and wine as a side dish or mixed into a another dish such as a quiche in place of chard. Here is my recipe for delicious roasted beets that makes for an excellent side dish to any meal.
Roasted Beets Recipe
This is simple recipe that takes about 15 minutes to prepare and around 40 minutes to an hour to cook. It's best with fresh ingredients from your local farmers market.
1 Bunch of red beets
1 Bunch of gold beets
5 Cloves of garlic
Fresh thyme springs
Fresh rosemary springs
Fresh chives
Olive oil
Flavored olive oil (optional)
Balsamic vinegar
Goat/chèvre cheese
Salt & pepper
Fresh salad greens (optional)
The key here is farm fresh beets, fresh picked herbs, really good goat cheese, olive oil, and a killer balsamic vinegar.
Preparation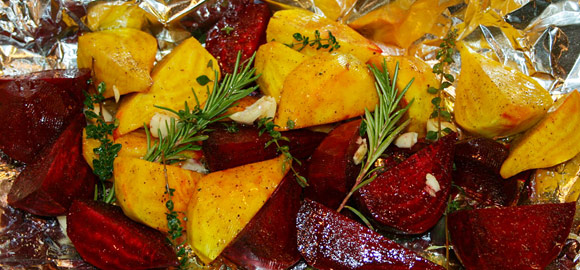 Pre-heat your oven to 350° degrees. Cut off the top greens and save for another dish. Wash the beet roots in cold water to get all the dirt off. Now grab a good vegetable peeler, and peel the beets. I've found the ones with a serrated edge work well. Quarter the beets and place them on a large sheet of non-stick foil, enough to fully wrap up and seal, like a foil boat.
Roughly chop the garlic and sprinkle evenly over the beets. Take a few springs of the thyme and rosemary, remove the leaves and sprinkle over the beets, then place a few whole thyme and rosemary springs over the beets. Drizzle heavily with olive oil and then season with salt and pepper.
Now close up the foil and place it on a baking pan, put the pan in the oven to bake for about 40 minutes to an hour.
Plating Roasted Beets
Once the beets are done, let them cool for a bit. They don't need to be served hot, it's okay if they are warm or at room temperature. If you got some salad greens then place a small bed of greens down, then place about 4 to 6 beet pieces on top of the greens, make sure you get an even blend of red and gold pieces.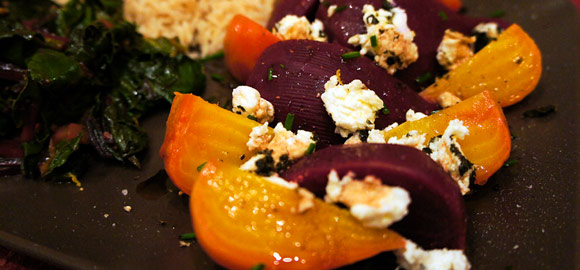 Working with the goat cheese can be a bit messy, it's a bit easier to work with when its cold so keep it in the fridge until you are ready to use it. I've even put it in the freezer 10 minutes before using. Now make sure your hands are very clean, using a small spoon or butter knife and your fingers, start putting little dabs of goat cheese on the beets, about one to two crumbles per beet piece so that there is enough to enjoy goat cheese with each bite of beet.
Using exceptionally good goat cheese, olive oil, and balsamic vinegar can really make this side dish stand out.
Now drizzle with your good olive oil. Lately we've had some citrus flavored olive oil we picked up from Sonoma and I've found it works really well. After the olive oil, then drizzle with your best balsamic vinegar. Now add salt, fresh ground pepper, and finely chopped chives. That's it, your roasted beet side dish is ready.
Have you enjoyed roasted beets with goat cheese? Please feel free to share your thoughts in the comments below and I hope you enjoy this delicious beet recipe.
Subscribe: Get my latest journal entries and blog updates from Majamaki.com by subscribing to my RSS feed or subscribe via email.