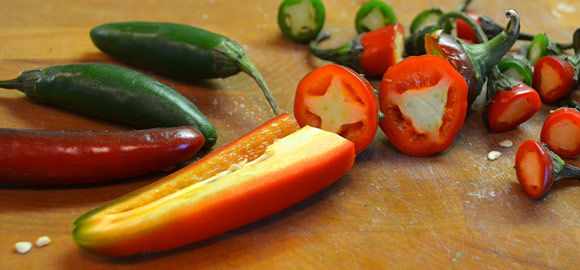 Over the last year I've been making batches of my own hot sauce. I have a strong affinity for spicy foods and have always enjoyed various hot sauces. Some of my favorites include Melinda's
Habanero variations, Tapatio, Sriracha, and Garlic Tabasco to mention a few. There are always 3 to 10 bottles of something spicy in our house.
Over the years I've built up a very high tolerance for heat in spicy foods.
Sometime last year I got the idea to try making my own spicy sauce. By now I think I've made about 5 or 6 batches, each time experimenting with different chilis, spices, and ingredients. Throughout the batches I've tried a mix of using various fresh chili peppers, dried chili peppers, and even canned chipotle chilis and adobo sauce. Some turned out better than others, but all of them have been good at providing additional flavor and spice to my meals.
However the last batch turned out exceptionally good….good enough that I'm going to try replicating it for my next batch. I've had a few people ask me for my recipe after posting some photos of my hot sauce, so here is the recipe as closely as I recall from the last batch. I hope you enjoy it as much as I am!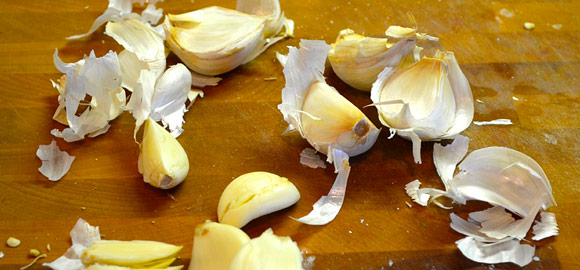 Note: The photos on this article were taken from a previous batch. I didn't take photos during the last batch so they don't match up exactly to what I'm describing, but they do illustrate the process. I'll try to remember to take photos next time I make this recipe and update the article.   
Serrano Habanero Hot Sauce Recipe
Ingredients
1/4 red onion diced

5 gloves of garlic
1 carrot – peeled, quartered and diced
12 fresh habanero peppers – stems removed and cut in half
20 fresh serrano peppers – stems removed and cut in half
1 fresh pasilla chili – stem removed and cut in to chunks
4 tbs olive oil
2 to 3 tbs salt
4 tbs honey
1/4 tsp coriander seeds
1/4 tsp cumin seeds
1/4 tsp mustard seeds
1/4 tsp cumin powder
1/4 tsp mustard powder
1/4 tsp paprika powder
3 tbs fresh cilantro chopped
2 tbs of fresh marjoram chopped
1 to 2 stalks of green onion chopped
1 1/2 cups of apple cider vinegar (I used Bragg Unfiltered Organic)
1/4 cup of water
The measurements noted above are more of a general guide, I did not actually measure anything when making the batch. Also with the chili peppers include all the seeds white membrane, they pack the most spice and heat.
Cooking
In a medium pot over medium heat, add 2 tsp of olive oil and the onion, garlic, carrot, and chili peppers. You can add them in batches as your cutting, the garlic, onion, and carrots should go first to start simmering, once the onion is a little translucent, then add the chili peppers as your cutting them up.  Cover for a few minutes to let them warm up and start breaking down.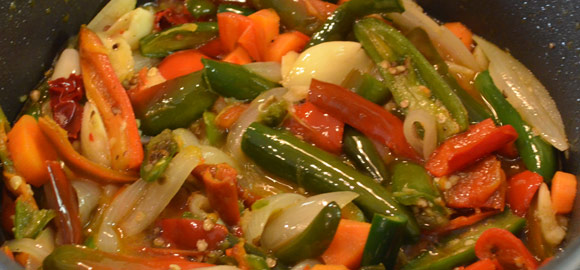 Next add 2 tsp of salt, 2 tbs of honey, and all the dried spices and seeds. Stir it all together, if needed add a little more oil to coat everything, then bring the heat down to a simmer and cover, but stirring occasionally and smashing the larger chilis to help them break down and get their juices flowing.
After about 5 to 10 minutes the peppers should be getting nice and soft. Add the fresh cilantro, marjoram, and green onion herbs, plus the 1/4 cup of water, stir together. Now keep the heat at a very low simmer and cover for another 10 to 15 minutes, stirring occasionally. By this time all the ingredients should be soft and mushy with all the spices and herbs should be infused.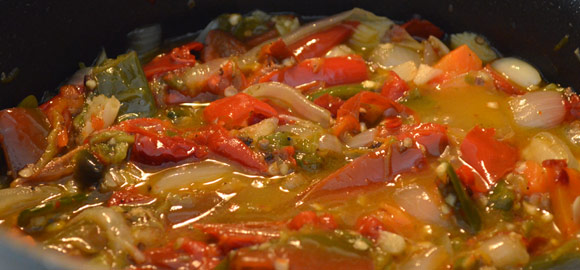 Turn off the heat and let it sit for another 10 or more minutes to cool down before blending.
Blending
This is best done using a powerful blender like a Vitamix
or any juicing blender, I use a Oster Beehive
blender. Using a food processor or hand blender will work too but it may turn out chunkier. Once the ingredients have cooled down a bit, pour everything into the blender and add the vinegar. Begin the puree the peppers and ingredients together, let the blender run for at least 30 seconds to a minute.  As its blending, add the remaining 2 tbs of honey and 2 tsp of olive oil to help emulsify it all together,  making for a nice smooth sauce. Stop blending and give it a taste.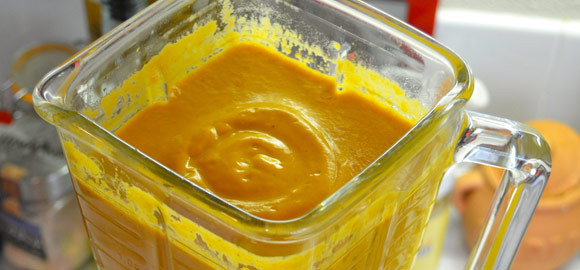 From here you can adjust the flavors by doing the following:
if too spicy, add more honey, vinegar or water

if too thick, add more vinegar or water
if too bland, add more salt
Adjust to your liking and heat tolerance. Remember when tasting to taste a little, not a whole lot. Hot sauce is meant to be used in smaller quantities with food, it is not like ketchup. If needed, have some corn tortilla chips as your tasting. You should end up with the blender being full, around 5 cups of hot sauce. If you've got more then you might have to blend in smaller batches.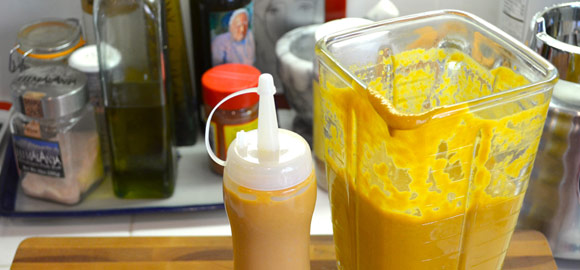 Once your happy with it, bottle it up. I use a plastic squeeze bottle
and store the remaining sauce in a recycled half gallon juice bottle. I do keep the sauce refrigerated as there isn't any preservatives in here I don't know how long it would last stored at room temperature. To be safe, I just keep it in the fridge.
Conclusion
That's pretty much the process I go through when making my own hot sauce. The recipe above is one of the best ones I've made so far. I ended up with a nice lite green-yellow-ish colored hot sauce. You can use this as a base for making your own. I think its important to experiment and try different chili pepper ingredients, spice and herb blends to discover new flavor combinations that make for a good hot sauce. The best thing is that doing this is fairly easy and tends to make a good amount, plus it is inexpensive. Instead of spending $5 to $8 dollars on a little 5 oz bottle, you can spend about $3 to $5 dollars and get over 5 cups of hot sauce. Depending on how much you consume daily it can last you anywhere from a few weeks to a month or more.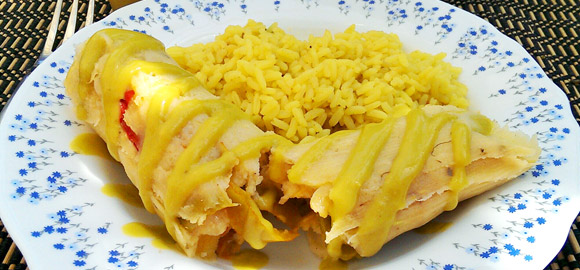 I hope you find this recipe helpful and it inspires you to make your own homemade hot sauce. If you have any questions or would like to share your thoughts on making hot sauce please feel free to use the comments below. I love getting feedback. Thanks for reading!
Subscribe: Get my latest journal entries and blog updates from Majamaki.com by subscribing to my RSS feed or subscribe via email.