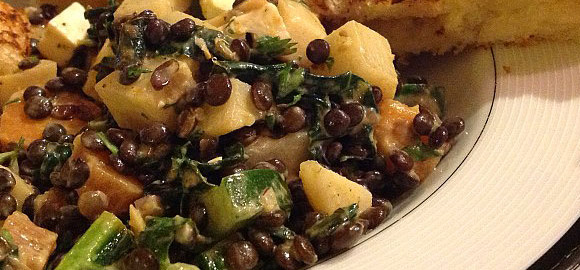 A few nights ago I made a delicious salad using black lentils, fresh kale, and veggies. I was really experimenting with what we had a home along with a few fresh ingredients from the farmers market. I had a package of bamboo roots from the asian market which are a little like artichoke hearts or hearts of palm but firmer, I combined it with farm fresh carrots, cucumbers, and feta cheese to make for a nice earthy meal. It turned out really yummy and healthy, making for a great side salad or paired with a good grilled cheese sandwich. Here is the recipe, I hope you enjoy it.
Lentil and Kale Veggie Salad Recipe
Ingredients
2 cup of lentils – black or brown lentils seems to hold their shape better for salads
2 cups vegetable broth
4 cups water
1 bunch of fresh kale
1 bunch of fresh carrots with tops
1 pack of bamboo roots from refrigerated section in asian markets (not canned bamboo shoots, roots look more like big artichoke hearts or hearts of palm) – chopped into 1/2 inch pieces
1 cucumber – chopped into 1/2 inch pieces
1/2 block of feta cheese – chopped into 1/2 inch pieces (optional)
1/4 cup of minced red onion
2 garlic cloves minced
1/2 lemon juice
1/2 cup of mayonnaise or plain greek yogurt (optional)
1 tbsp extra virgin olive oil
1/2 tsp cumin
1/2 tsp mustard powder
1/2 tsp paprika
1/4 tsp Red chili flakes (optional)
1/4 cup or less of white wine or water
Salt
Pepper
Preparation
Rinse and clean lentils.
Bring vegetable broth and water to a boil, add lentils, cover with lid but keep tilted so steam can escape, boil lightly for about 20-25 minutes until tender but not mushy.
Remove tops from carrots and set aside, wash and clean carrots trimming tops and ends, optional to peel the carrots. Once ready you can boil them in with the lentils or in their own pot for about 5 minutes until a little tender. (note that boiling with the lentils will make them a little darker on the outside as black lentils give out a dark brown color, this is fine)
Soak, rinse and dry the kale, chop into 1 to 2 inch strips and set aside.
In a large bowl add chopped cucumber, bamboo roots, and onions.
Once carrots are done, remove from boiling water and let them cool for a few minutes. You can drop them in an ice bath to cool down faster. Then chop them down to 1/2 inch pieces and mix them in with the other veggies.
Once the lentils are done, strain them out over the sink and run cool water over them to help cool down, then set aside to cool.
While the lentils are cooling down, heat up a large skillet pan on medium to high heat with the olive oil. Once the oil is hot, toss in the garlic, after about 30 seconds toss in the kale. Season with salt, pepper, and optional red chili flakes, add lemon juice and white wine to help steam and sweat the kale, but only enough that will evaporate, you don't want a lot of extra liquid. Toss the kale around for about 1 to 2 minutes until lightly wilted but still bright green. Set aside to cool.
Once the kale and lentils have cooled down, add them to the veggies, add spices, salt and pepper, then stir around to get a nice even blend.
Chop about 1/2 cup of the carrot tops, using them like fresh herbs and toss them into the mix.
Now toss in the cubed feta cheese. This is optional if you wish to keep it vegan.
Now add the mayonnaise or yogurt. This is optional if you wish to keep it vegan. I'm really fond of Trader Joe's Real Mayonnaise (yellow label), it's the only one I'll use, I love the high vinegar taste of it. Alternatively you could use go dairy free and use more lemon juice or vinegar and olive oil making for a vegan salad.
Carefully toss it all together giving everything a good coat. Taste it and adjust seasoning, salt, and pepper to your liking.
That should do it. You can experiment with different veggies or even fruits like apples to make a great salad. If you can't find the bamboo roots you could try using cooked parsnips or potatoes. The bamboo roots can be found in the refrigerated section in asian markets, usually in sealed plastic pouch with 3 to 4 root pieces. I even thought about adding pomegranate seeds after I had made it, they would add a nice burst flavor.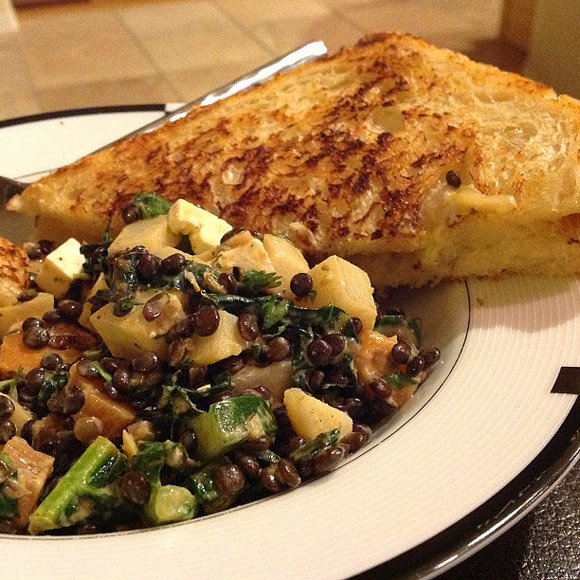 Now, not only do you have a yummy salad, but a healthy vegetarian (or vegan) one that is good for you and your family. This makes a great side salad to any meal and works really well with a good grilled cheese sandwich. I always enjoy using sourdough bread with Munster cheese with a little mayo and mustard in my grilled cheese sandwiches. I hope you enjoy this recipe, please feel free to share you thoughts in the comments below. I love to hear about readers experiences.
Subscribe: Get my latest journal entries and blog updates from Majamaki.com by subscribing to my RSS feed or subscribe via email.