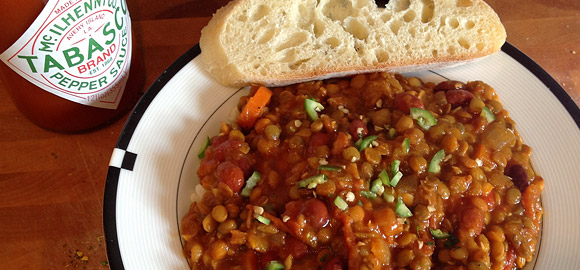 Last night I made a big pot of delicious lentil chili that turned out amazingly yummy. I saw the original vegan lentil chili recipe over on the Whole Foods Market site, but I made some adjustments to it which I feel enhanced the flavors and made it even better. As a vegetarian, lentils provide a great source of protein and fiber, in addition to being really healthy for our bodies. This is a very simple recipe that leaves plenty of room to experiment in making your own favorite style.
Vegan Lentil Chili Recipe
Ingredients
8 cups of low-sodium vegetable broth – Imagine's organic vegetarian/vegan no-chicken broth is really good
1 yellow onion – chopped
1 red, yellow, or orange bell pepper – chopped
1 cup mushrooms – sliced
4 carrots – sliced or chopped
5 cloves of garlic – finely chopped
2 1/4 cups of brown or green lentils – rinsed
1 28 oz can of diced tomatoes (or 2 15 oz cans) – the San Marzano tomatoes are especially flavorful
1 15 oz can of red beans – rinsed
2 to 4 links of Field Roast vegan italian sausage
3 tbsp olive oil
2 to 4 tbsp fresh herbs – thyme and marjoram work well – chopped
1/2 cup cilantro – chopped
6 teaspoons of salt-free chili powder
1 bay leaf
1/2 tsp paprika
1/2 tsp garlic powder
1/2 tsp mustard powder
1/4 tsp cumin powder
1/2 tsp salt
1/2 tsp pepper
1 tsp Tabasco sauce
Optional Spicy Ingredients
3 or more Serrano chili peppers – finely diced
1 tsp red chili powder
1 tsp red chili pepper flakes
2 tbsp Tabasco sauce
Preparation:
In a large pot under medium high heat add 2 tbsp olive oil.
Add onion, mushrooms, carrots, bell pepper, and garlic (and optional Serrano peppers), cook about 8 minutes until onion is translucent and tender.
In a medium sauté pan under medium high heat, add the remaining olive oil, remove sausage from plastic casing, using washed hands crumble the vegan sausage into small pieces into the pan, brown for 3 to 5 minutes, add 1 tsp chili powder in last-minute.
Add 1/2 cup of vegetable broth to the pot with onions and veggies, stir in 5 tsp of the chili powder, cook 1 to 2 minutes, stirring constantly.
Add lentils, canned tomatoes with juice, vegan sausage, remaining spices, fresh herbs, and remaining 7 1/2 cups of broth.
Bring to a boil, reduce heat to medium-low and simmer, partly covered, for 30 minutes or until lentils are almost tender, stirring every 5 to 10 minutes. If it gets too thick, add more water or broth, but in small batches. You want it thick but not soupy.
At this point taste the broth and lentils, adjust salt, pepper, and seasoning to taste.
Add rinsed red beans, and 1/4 cup cilantro, stir and simmer uncovered for 10 minutes.
Serve with a slice of fresh bread, over brown rice (optional), garnish with fresh chopped cilantro and your favorite toppings. I used fresh ciabatta bread, fresh chopped Serrano chili peppers, and a few shots of Tabasco sauce.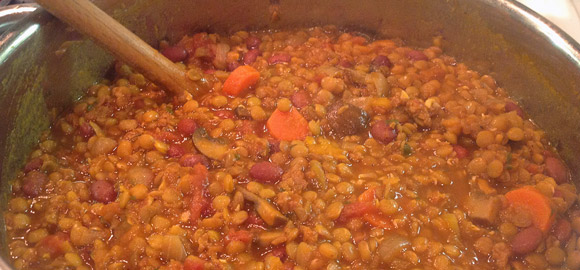 That's it. Now you've got a big pot of vegan lentil chili that is no only delicious but healthy for you and your family. There is plenty of room for experimenting here, additional veggies that would work well include celery, corn, potato, cauliflower, or sun-dried tomatoes. You could also use different beans such as black, pinto, or white navy. For those wanting a smoky spiced version you could add some chipotle chili peppers and sauce, also fire roasting any veggies would be good too. I hope you enjoy this recipe, please feel free to share you thoughts in the comments below. I love to hear about readers experiences.
Subscribe: Get my latest journal entries and blog updates from Majamaki.com by subscribing to my RSS feed or subscribe via email.