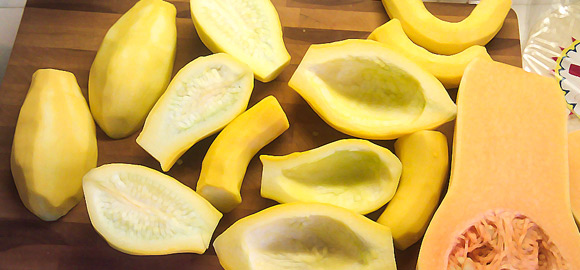 I love a well made soup, one of my favorites is roasted squash soup. The richness of the roasted squash combined with earthy spices puréed into a creamy blend of bliss! I like to add coconut milk instead of cream, I find it creates a delightful subtle flavor of coconut coming through in each spoon full. Earlier this week when going on a trail run with our good friend Jennifer, she handed me a bag full of golden-yellow crookneck squashes that she had picked from her community garden. We had a butternut squash at home that I had picked up from the local farmers market earlier this week, so I decided to make a roasted squash soup combining the two squashes. Here is my recipe and process for making it.
Note: I took the photos with my phone, so they don't as good as they could. I ended up adding a paint daubs effect to help them look at bit better.
Roasted Squash Soup Ingredients
A few pounds of squash, crookneck, butternut squash, or any other yellow/orange squash, peeled, cored, and cut into large chunks
1 yellow onion, cut into wedges
2 medium potatoes, peeled cut into large chunks
3 carrots, peeled and cut 3 inch chunks
2 stalks celery, chopped
5 cloves of garlic, smashed
6 springs of fresh thyme
2 springs of fresh rosemary
2 springs of fresh oregano
6 leaves of fresh sage, roughly chopped
1/2 cup brown sugar
1 teaspoon freshly grated nutmeg
1 teaspoon cinnamon
1/2 teaspoon cumin
1/2 teaspoon cumin seeds
1/2 teaspoon coriander seeds
1/2 teaspoon mustard seeds
2 quarts of your favorite vegetable broth
Water
2 cans of coconut milk or a pint of half and half (optional)
1/2 stick of butter
Olive oil
Salt and fresh ground pepper
Fresh chives for garnish
1/2 cup toasted nuts, pine nuts, pistachios, or walnuts work well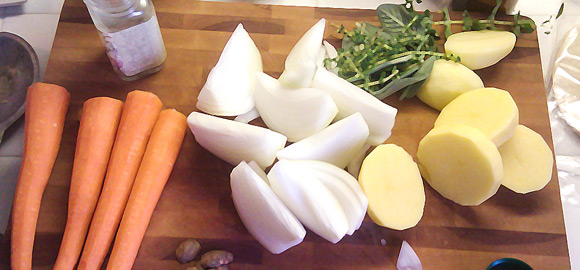 Roasted Squash Soup Directions
Step 1: Prepare The Veggies For Roasting
Pre-heat the oven to 350° degrees. Using a serrated edge vegetable peeler, peel the squashes, cut them in half and core out the seeds. Then cut them into large chunks about 1 to 2 inches thick and put them into a large bowl. Next peel and chop the carrots, potatoes, and onions, then smash the cloves of garlic with the flat side of your knife to remove the peel and add everything into the bowl.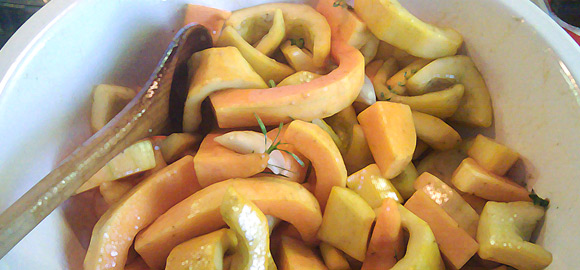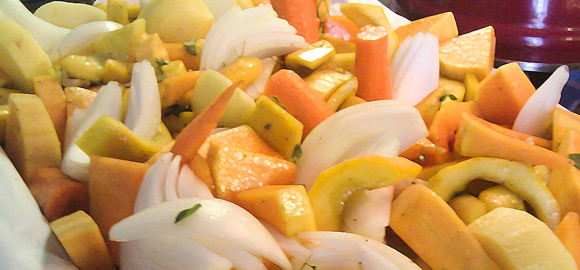 Now add the fresh herbs; thyme, rosemary, sage, and oregano, spices; nutmeg, cinnamon, cumin, salt, and fresh ground pepper. Toss with the brown sugar and enough olive oil to throughly coat all the veggies. Line a baking sheet with non-stick foil or parchment paper. Pour all the coated veggies on to the baking sheet, spread evenly and tuck any herb springs sticking out in-between the veggies so they don't burn up. Place in middle of oven for about an hour until veggies are soft and browned on the edges.
Step 2: Prepare the Soup Base
About 15 minutes before the vegetables are done roasting, get a large soup pot on the stove. Add the remaining spices; cumin seeds, coriander seeds, and mustard seeds, toast the seeds over medium heat, moving them around until the seeds are fragrant and slightly browned, about 2 minutes. Then add about 1 tablespoon of olive oil along with the celery, simmer together for about 2 minutes until the celery starts to become a little translucent.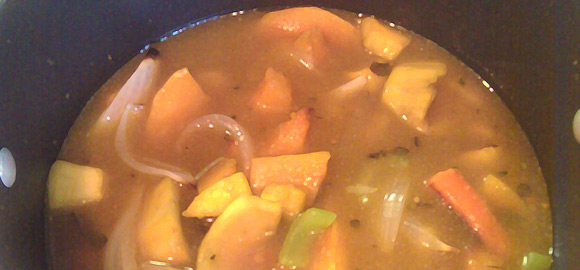 Next pour in the vegetable stock and bring it up to a simmer. By this time the roasted veggies should be done, take them out the oven, pick out any of the herb stems and add all the veggies to the broth. If needed add water to completely cover all the veggies. Bring to a medium simmer for about 30 minutes to let all the flavors come together and get happy.
Step 3: Purée the Soup
After about 30 minutes the veggies should look very mushy and ripe for blending. You can purée the soup using a motor boat hand blender or doing it in batches with a blender. I like to use a blender to ensure everything becomes fully puréed. If you go this route, you'll need a second large pot, a large cup with a handle, I used a 2 cup measuring cup, the blender, and a kitchen towel or wash cloth.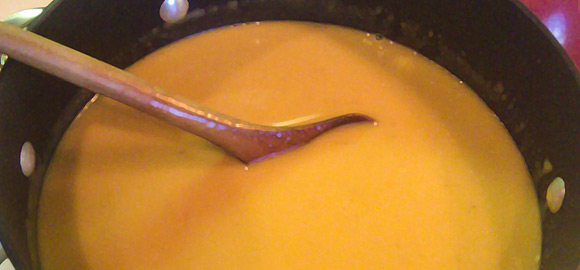 Using the measuring cup, scoop out the veggies with broth into the blender, filling it only about a third to half full. Because of the heat, it expands as you blend, so you don't want to fill it too much. Put the lid on, then put the towel over the lid and hold the lid with your hand as you turn on the blender. Purée for about 10 seconds until it looks nice and smooth, like baby food. Pour into the second pot. Repeat until all the soup is puréed.
Step 4: Finish the Soup
Once everything is puréed, add the coconut milk and butter, put it on medium heat. Now is the time to adjust the seasoning, taste the soup, add more salt, pepper, even cumin and cinnamon if needed until the flavors are right. Let it come up to a light simmer.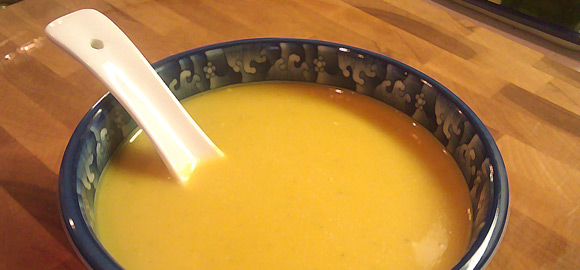 While the soup is coming up to a light simmer, lightly crush the nuts and toast them in a pan for about 3 to 5 minutes. Mince the chives. Once the soup is up to a simmer it'll be ready to serve. Serve in your favorite soup bowls, top with toasted nuts, and a sprinkling of chives.
That's about it, I hope you enjoy the recipe. Obviously you can experiment with the ingredients and flavors to your liking. If you make it, let me know how it turns out and if you did anything different.
Subscribe: Get my latest journal entries and blog updates from Majamaki.com by subscribing to my RSS feed or subscribe via email.