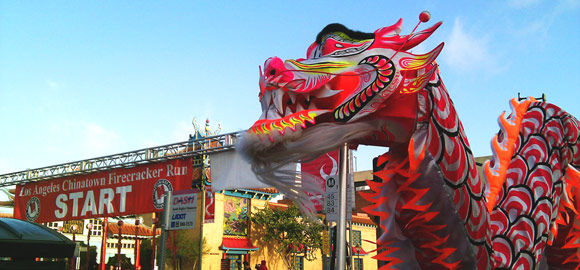 Today on February 12th 2012, I participated and completed my 8th 5k event run in the 34th Annual Firecracker 5k/10k Run, located in our very own Chinatown in the City of Angels (as I like to call Los Angeles). It was a great run and we had a lot of fun. They also have a 30 mile and 20 mile bike ride on Saturday (day before the run) that I was going to sign up for but it was sold out. I'll definitely participate in it next year as I'm looking for more bike events, especially any mountain biking events.
Firecracker Run Energy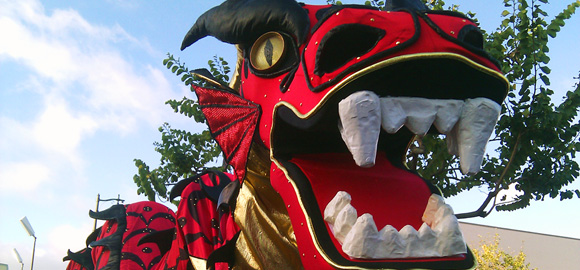 The start line is in the heart of L.A.'s Chinatown on North Broadway with lots of big theatrical traditions to kick off the race. First they start off with some Los Angeles Lakers girls get you warmed up with a simple warmup exercises. Then the Chinese traditions kick in, dragons come out to do a big dragon dance to the beat of pounding taiko drums. A rhythmic ritual that can put you in a trance if you open your heart and mind to allow it. A very positive and important experience as part of the Firecracker run. As you can see, this year there some very cool dragons, there were at least 3 different styles. Then they finish it up by lighting 100,000 firecrackers hanging from the start line. It literally takes about 5 minutes for all the firecrackers to go off with all their loud pops, bangs, flashing sparks, and plenty of smoke.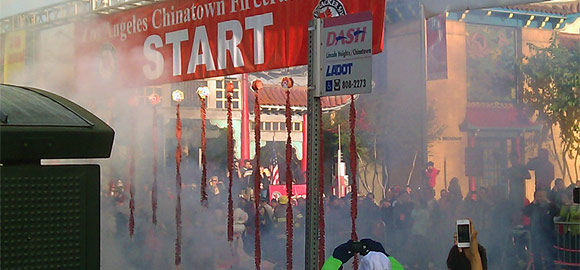 A great sight to experience and it really sets the tone, energy, and excitement for the runners.
Firecracker 5k Run Course
The 5k course isn't flat, it starts out on North Broadway going towards Dodger Stadium and the L.A. river, however hanging a left on Bishops Road to start a nice easy uphill section which transitions onto Stadium Way going even more uphill, over the 110 freeway into the Dodger Stadium parking lot where we do a loop before heading back down the same way we came and onto the finish line. The 10k course is a bit different as they go past Bishops Road to Meadow Road and then curve up and around to Dodger Stadium to com back down the same way as the 5k runners.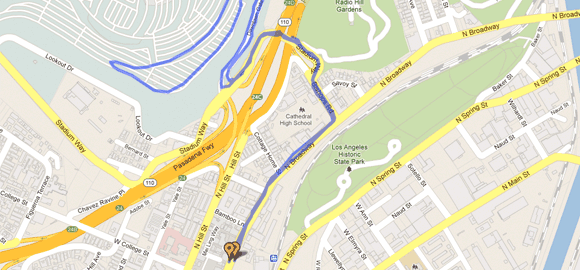 My Performance
My running has been building up and getting stronger, all the previous 5k runs were great, but also a challenge for me to get through without walking. Before I could get to about the halfway point of 2.5k nonstop, then from that point on it would be a mix of walking and running the rest of the way. Today's run was the very first run that I was able to complete nonstop and run the entire 5k course. I was really amazed that I got though the uphill section fairly well.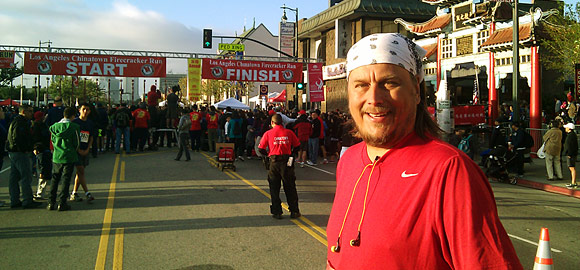 The main change, other than regular running to build up my endurance and stamina, was focusing on my breathing. I've discovered that when ever I found myself feeling exhausted and my legs burning, I wasn't controlling my breathing. I would change my focus to breathing and next thing I knew the exhaustion and burn in my legs were going away and I was able to continue going on without the need to slow down to a walking pace. On the downhill section, while many runners seemed to pickup their pace and go faster, I found myself slowing down and controlling my downhill pace and again getting better control of my breathing to allow me to run longer. Focusing and controlling my breathing really helped me do the run without stopping.
This appears to be the focus that helps me to stay in control of my body while continuing to push it further.
As I was approaching the last stretch toward the finish line the 10k runners just started and I was able to see my lovely wife, Jenny, taking off on her 10k just as I was about to cross into the 5k finish line. It was perfect! My official finish time turned out to be 29:35! My first 5k run under 30 minutes.
The Medal and Goodies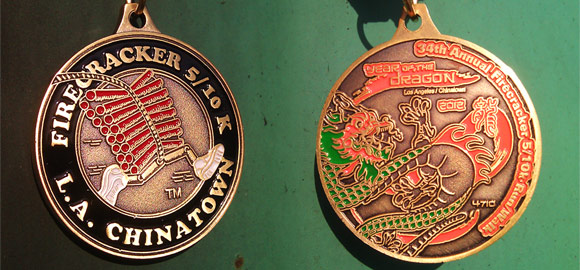 Apparently this is the second year they have medals. Two years ago when Jenny did her first Firecracker 10k run they didn't have any medals for the runners. Last year they did and it had a rabbit on one side as it was the Chinese Year of the Rabbit. As you can see this year is the Chinese Year of the Dragon so the medal has a dragon design on one side while the other has the L.A. Chinatown Firecracker 5/10k Run logo. It's a nice medal and I like the fact that they change it up each year to honor the Chinese New Year.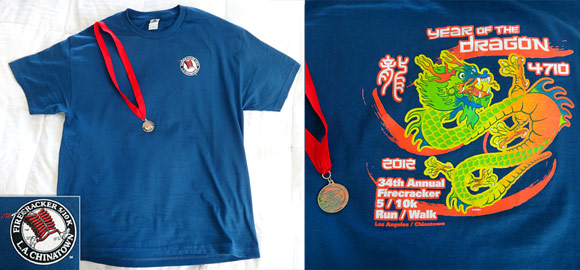 In addition to the medal, they seem to have some decent shirts. This year the goodie bag came with a nice heavy cotton shirt. A blue shirt with the logo on the front and a dragon design on the back. This is nice as it makes for a good everyday shirt that you can wear instead of a generic tech shirt with 20 sponsor logos on it that you never want to wear. From the looks of it, their past shirts have also followed this path while offering unique designs that honor the Chinese New Year theme. In addition to the shirt you get a nice tote bag loaded with snacks and info, but the bag is good enough to reuse for grocery shopping or farmers market trips.
Wrap Up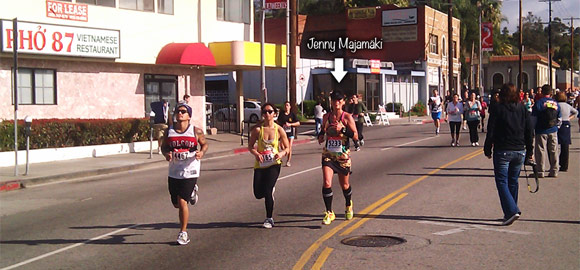 After the run I waited for Jenny to finish her 10k run, which she did fantastic coming in at 56:28, over 15 minutes faster the same run two years ago. Once she was done we went back to the car to freshen up and get ready to go have some brunch over at the Empress Pavilion, a local yet traditional Chinese Dim Sum restaurant just a few blocks from the Start/Finish line. The place was packed with runners, we met up with some running friends. We got lucky as we got there early and were able to walk right in and get a table, when we left, there were literally 150 people waiting outside to get a table, it was nuts…but typical.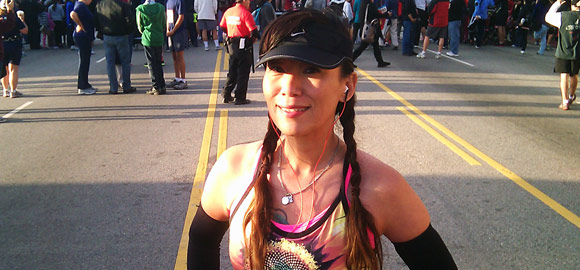 After that we headed home, we got online and logged our progress on dailymile and Facebook, I wrote this blog post, and cracked open some good beer (Sierra Nevada Ruthless Rye IPA) and enjoyed the rest of the beautiful Sunday.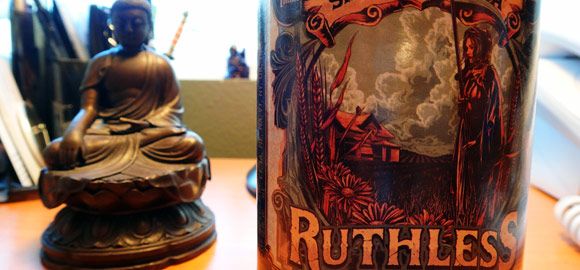 My 5k Runs
Here are all the event runs I've done so far (not in order):
L.A. Chinatown Firecracker 5k Run
Wine Vine 5k Run
Santa Clarita Marathon 5k Run
San Francisco Marathon 5k Run
Knott's Berry Farm 5k Coaster Run
Warrior Dash 5k Mud Run (Lake Elsinore)
Merrell 5k Mud Run (Santa Clarita/Castaic)
Firecracker Resources
Have you run a Firecracker event? Please feel free to share your thoughts in the comments below and thanks for reading!
Subscribe: Get my latest journal entries and blog updates from Majamaki.com by subscribing to my RSS feed or subscribe via email.