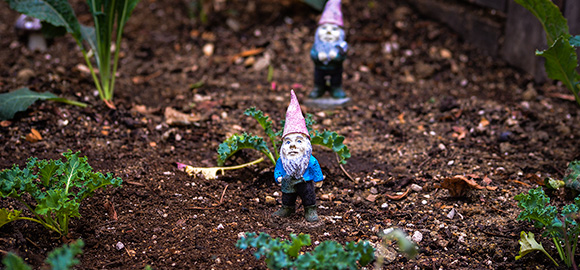 This week I did some gardening and planted various veggies and fruit throughout our garden yard, the sun was out, it was warm and felt really good to soak it all in. The main area I use for vegetable gardening gets about two thirds of the days sunshine. The veggies grow fairly well in the early part of spring and usually thrive in the hot 100° summer days, but not as much the last few years, the garden patch gets shadowed by our fruit trees which have more than doubled in size over the last few years, so it gets less sun as the trees begin to fill in the leaves and fruit. Which does not work as well for some veggies that require full sun to properly grow.
Two fall seasons ago I planted some swiss and rainbow chard, figuring it would be a good winter vegetable. It turned out to be an excellent producer, but what I didn't expect was for the plants to survive the summer heat and continue to produce into the next cool seasons with even bigger growth. This year two of the chard plants have doubled in size and are producing magnificent leaves for harvesting. Turns out the shade from the fruit trees actually helped protect the chard from the burning hot summer sun. So this time I thought I'd try planting some kale in the same general area to see if it can survive the summer heat and hopefully thrive as it goes into the fall and winter season.
I planted the most common curly kale along with some lacinato or dino kale. It'll get more sun than the chard, but kale tends to be a hardy plant and it should be able to handle the heat. We'll see. Anyway, after I was done planting everything I decided to pull out my camera and snap off a few photos of the garden. Got a handful of really nice photos, check out the Weathered Buddha I posted yesterday, along with this photo of the little garden gnomes hanging out and gardening with the freshly planted kale.  It's a great shot giving you the rich detail of the compost soil, the dark green kale leaves and the sun faded gnomes statues. I've made this available in all the usual sizes, it works really well as a wallpaper for your desktop, tablet or phone, I hope you enjoy it.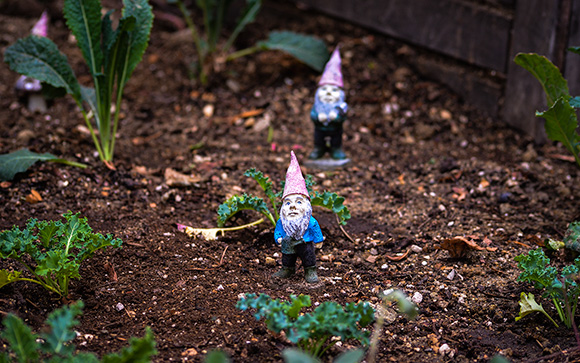 Download Gnomes N' Kale
Have you started gardening yet? What are your favorite things to grow? Please feel free to share your thoughts and experiences in the comments below. Thanks for reading and I hope you enjoy the photos.
Subscribe: Get my latest journal entries and blog updates from Majamaki.com by subscribing to my RSS feed or subscribe via email.