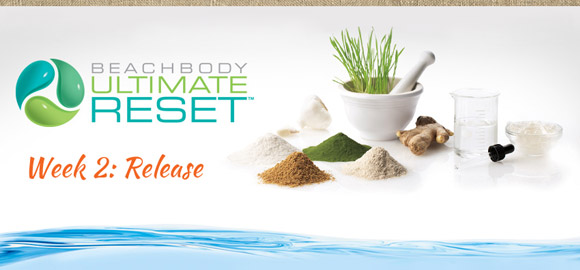 This part 2 continuation of my journal on Beachbody's Ultimate Reset. You can read my Week 1: Reclaim journal here.  This is a 21-day body cleanse program broken into three one week phases; Reclaim, Release, and Restore. The benefit of doing this program include removal of toxins from our body, weight loss, increased energy, lowering the bad cholesterol, boost mood and mental clarity and improve regularity. Basically filtering out your body to remove toxins and bad elements to reset it back to a healthier state.
Ultimate Reset – Week 2: Release
The second phase, Release, shifts things by eliminating all animal products from the menu, so no yogurt, eggs, and of course no meat. Going for an all vegan diet of veggies, fruit, legumes, and whole grains. Then to kick in the cleanse stage it introduces a new Detox supplement that helps remove toxins and waste in the colon, this taken three times a day with water in addition to the same Optimize and Alkalinize supplements from last week.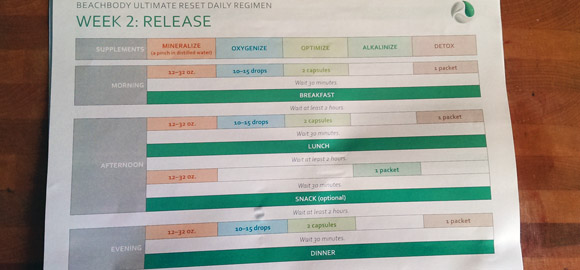 Day 8
Weight: 203 pounds (8 pounds lost)
Got a decent night sleep and felt pretty good in the morning. Relaxing in bed a little bit before getting up. Afterwards I got up used the restroom, no bowel movement this morning, and weighed myself, 203 pounds, same as day 7. Took standard progress photos and then proceeded to do the five Tibetan Rites exercises before heading down to take my morning supplements and make breakfast.
Meals
Day 8 Summary
Feel good throughout the day with steady flow of energy and focus. I did have a late morning bowel movement, maybe the Detox supplement kicking in.
---
Day 9
Weight: 201 pounds (10 pounds lost)
Had good deep sleep and didn't wake up until 7:00 am. Relaxed in bed while doing some deep breathing before getting up to use the restroom. I did have a bowel movement this morning and weighed myself afterwards. Lost 2 more pounds, down to 201 for a total of 10 pounds lost.  Afterwards I did the five Tibetan Rites exercises, these are getting easier and I'm less tired now after 21 reps so it must be doing something good to my body. Then I went down to take the morning supplements, let Jäger the Cat out into the backyard, and started making breakfast.
Meals
Day 9 Summary
Dinner was really good and the bisque was really simple to make. A new recipe that I'll be using again in the future. Otherwise I felt good though out the day. Went for my evening half mile walk before heading to bed.
---
Day 10
Weight: 201 pounds (10 pounds lost)
This morning I got up early and decided to go for a mountain bike ride to Tapia Canyon. Something I've been avoiding because your not supposed to do strenuous exercise while doing the Ultimate Reset, but I couldn't resist. It's been about a month since my last ride up to Tapia Canyon and it felt really good. A little over 8 mile ride with a good climb up and a fun single track ride down. Since I went for a ride I didn't do the five Tibetan Rites this morning. Now its time to make some breakfast.
Meals
Day 10 Summary
Really getting used to the meals now and starting to crave the raw veggies when I get hungry.  I can tell my body is feeling better from the meals on this program. I wonder if can stick with the vegan diet afterwards. I do miss eggs, cheese, and yogurt, but if I continue to feel better without them then I might have to cut them from my diet. We'll see how it goes.
---
Day 11
Weight: 201 pounds (10 pounds lost)
Got up around 6:20 am. After weighing myself I'm surprised that my weight has stayed the same the last few days. I would have thought it would have dropped, especially after yesterday's mountain bike ride. Oh well. After getting up I did my five Tibetan Rites exercises and went down to make breakfast.
Meals
Day 11 Summary
Busy day working on a project, but energy levels and mental focus was good all day long.  It was hotter today, over 100º, which is why I had extra water today. The evening cooled down a bit and was nice for my half mile walk. I think the walk at night before going to bed is a key factor in either loosing weight or maintaining your weight. That burst of activity before resting allows the body to work more while sleeping.
---
Day 12
Weight: 200 pounds (11 pounds lost)
Woke up extra early around 5:00 am to use the restroom, looked out the window and  enjoyed the bright stars in the dark night sky. Orion's Belt constellation was right in view out the window. Beautiful. Went back to sleep for a little while and woke up around 5:55 am. Got up, went the restroom and had a bowel movement, weighed myself. Another pound lost, now at 200 pounds for a total of 11 pounds. Feels good.  Did my five Tibetan Rites exercises and jumped on the computer.
Meals
Day 12 Summary
For some reason today was one of the first days I felt hungry between meals. I'm guessing it might be due to the miso soup last night, being more of a liquid meal the full effect doesn't last as long. Other than that, felt pretty good throughout the day, a little tired around 5:00 pm, so I took a short 10 minute nap. Maybe because I got up about an hour earlier this morning. Anyway, after watching the Newsroom (great episode and season ender) then Breaking Bad (which was an incredible episode but very tough to stomach), I went for a brisk half mile walk and then headed to bed.
---
Day 13
Weight: 200 pounds (11 pounds lost)
Good deep restful night of sleep. I don't think I woke up at all until 6:00 am this morning. Got up and I did have big bowel movement this morning, more of the Detox supplement kicking into effect. My weight stayed the same as yesterday, 200 pounds.  I really hope that I can break the 200 pound barrier over the next 8 days. Did the five Tibetan Rites exercises, took progress photos and then went down to get some water and take the morning supplements and Detox packet.
Meals
Day 13 Summary
Today was fine, didn't really feel anything special however my energy level was good all day. Did my half mile brisk walk before heading to bed.
---
Day 14
Weight: 199 pounds (12 pounds lost)
Woke up around 6:00 am this morning. Relaxed in bed for a few minutes while doing deep breathing exercise. Then I used the restroom and had another bowel movement. Afterwards I weighed myself and I was very happy to see my scale go under 200 pounds, now at 199 pounds for a total of 12 pounds lost! This is program is working. I hope that my cholesterol levels are going down as well. Anyway, next I did my five Tibetan Rites exercises. Then I went downstairs to take the morning supplements and begin preparing breakfast.
Meals
Day 14 Summary
It was a busy day for me, but the meals today were fantastic. I created a new coconut Thai style salad dressing which is fantastic, then the kabocha squash soup and corn edamame succotash were all really delicious. Energy levels and mental focus was strong throughout the day and into the night. Because I had a late evening meeting and then after I got home around 11:00 pm I finally got to play a little Grand Theft Auto V, so I didn't get a chance to go out for my evening walk before heading to bed around 1:00 am.
Ultimate Reset – Week 2: Release Wrap-Up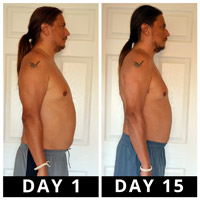 This week went by quickly because I'm wrapping up a big project. However I did stick to the program by taking the scheduled supplements and following the menu. I'd say that I have followed the menu to about 90% accuracy. Only a few times using left over item instead of making something fresh. That plus using ginger, garlic, chili pepper, herbs and spices in the foods, a lot the menu lacks these items. The menu this week was really good and refreshing.
I'm looking forward to continuing these healthier eating habits even after I'm done with the program. More delicious raw veggie salads for lunch leaves you feeling refreshed and ready for the rest of the day. I'm still contemplating if I can go fully vegan and give up eggs, cheese, and yogurt. I do miss them, however I will be eating less of them if I do decide to go back into my usual vegetarian diet. The other thing I have missed is enjoying a good cup of espresso coffee, not for the caffeine, but for that delicious coffee flavor.
As you can see in my Day 1 to Day 15 photos the weight continues to drop, although only 4 pounds this week compared to 8 pounds from last week, I'm now at 199 pounds for a total of 12 pounds lost. I'm very happy to break the 200 pound mark and hopefully over the next week I can get at least another 5 pounds off. We'll see how it goes as I start Phase 3: Restore today. I'll be posting my Phase 3 journal on Tuesday evening of next week. Until then…stay tuned in on my Instagram, Twitter, Facebook for more food photos. If you are interested in improving your health and would like to do this program then please let me know. I am Independent Beachbody Coach and you can order Beachbody's Ultimate Reset directly from me by visiting my Ultimate Reset site.
Subscribe: Get my latest journal entries and blog updates from Majamaki.com by subscribing to my RSS feed or subscribe via email.