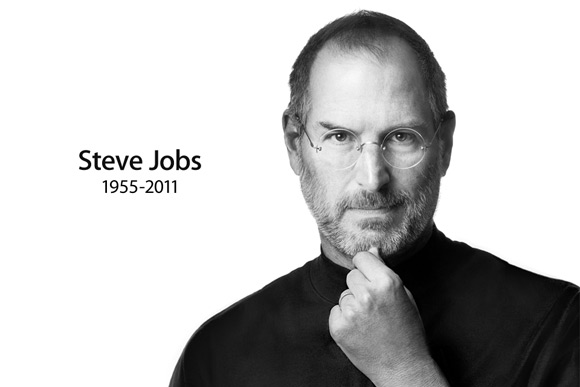 Today is a deeply sad day throughout the world, we have lost a remarkable human being, the insanely brilliant Steve Jobs has passed away.
Steve Jobs was one the worlds greatest visionaries that created a lifestyle of products that touched us and complimented our lives harmoniously unlike anything else. No other product, brand, or a real vision, will ever affect our lives as much as Steve's vision for products at Apple. He strongly believed in his vision in such a way that he would never compromise on quality to make sure his products were perfect while at the same time they would impact the lives of everyone that experienced them. A brilliant visionary genius that changed the world.
I remember buying my first Macintosh in the early 90's and I immediately became an evangelist. Throughout the years I've owned dozens of Apple products and I've convinced many people into buying a Mac because I believed Apple products would make their lives better. My life and career changed after my first Mac and has been heavily influenced by it since. It pushed me into creative design and eventually my career in the Internet industry. Almost everyday of my life I have had my hands on an Apple product, be it a Mac, MacBook, AppleTV, iPod, iPhone, iPad, or many of the older generation of Apple products. Plus combined with the brilliantly innovative Mac OS X that makes your work and life easier, and software like iTunes and iPhoto that I used religiously to make life more enjoyable and easy to share with friends and family.
As a Mac and Apple product user, when you really start to think about how much of an impact Steve Jobs has had on our lives through Apple and even Pixar you can not be mistaken that for some of us, our lives are so heavily influenced to be better than it is without his vision. I'm certain that I would not be where I am today without the brilliant tools that are seamless in our lives. I can't imagine a day in my life when I don't use an Apple product that makes my life easier and better, they are the natural technological extension that bridges our lives together.
Being grateful for everything we have can be difficult to acknowledge, its something we need to do more often, today is a very humbling day as I reflect upon how much my life that I appreciate and love is influenced by Steve Jobs and his vision through Apple products. It makes me cry thinking about it. I am so grateful to be living in a time to experience his vision and the evolution that has happened over the last 30 years thanks to Steve Jobs.
One of my favorite quotes from Steve Jobs:
…you can't connect the dots looking forward; you can only connect them looking backwards. So you have to trust that the dots will somehow connect in your future. You have to trust in something—your gut, destiny, life, karma, whatever. This approach has never let me down, and it has made all the difference in my life…
To Steve Jobs…thank you, thank you, thank you for being the brilliant visionary and genius without ever compromising. I am eternally humbled and grateful for your vision and life impacting contributions to our world. You are a true visionary and inspiration that pushes the rest of us to follow our own vision with the light of your fire.
You will forever be in our hearts and thoughts, usually with your insanely brilliant vision under our finger tips. You are the true "crazy one" that has inspired us all to be better, may you rest in peace.
"Here's to the Crazy Ones. The misfits. The rebels. The trouble-makers. The round pegs in the square holes. The ones who see things differently. They're not fond of rules, and they have no respect for the status-quo. You can quote them, disagree with them, glorify, or vilify them. About the only thing you can't do is ignore them. Because they change things. They push the human race forward. And while some may see them as the crazy ones, we see genius. Because the people who are crazy enough to think they can change the world—are the ones who DO!"
Resources
What are your thoughts on Steve Jobs passing away? Please feel free to share your thoughts below and thanks for reading.
Subscribe: Get my latest journal entries and blog updates from Majamaki.com by subscribing to my RSS feed or subscribe via email.