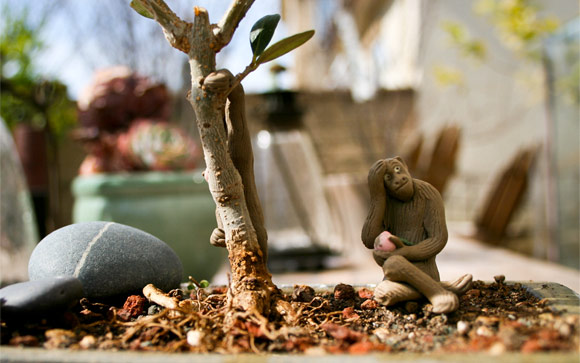 A few months ago I picked up a Bonsai-Tuscan Miniature Olive Tree from wine.woot.com. At first I had it in the house but it quickly started dropping leaves, so then I put it outside in our backyard and it seems to have stabilized and is doing much better. Jenny put these little monkey statues and rocks on it which gave it even more of a zen look and feel. Last week I took some photos in the garden, mostly of the succulents, along with a few of the bonsai tree. I felt this photo turned out pretty cool and works well as a wallpaper background for your desktop, iPad (now in iPad 3 size), iPhone, and a really good Facebook Timeline Cover. Feel free to share and I hope you enjoy it!
Download
Resources
Do you have a Bonsai Olive Tree? Please feel free to share your thoughts below and I hope you enjoy this desktop!
Subscribe: Get my latest journal entries and blog updates from Majamaki.com by subscribing to my RSS feed or subscribe via email.