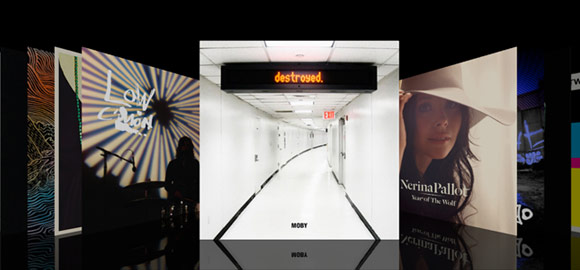 It was a mildly decent year for new music, while a few albums stood out for me, it seemed like there were fewer albums that really amazed me. The electronica and hard rock/metal genres were lacking this year with only a few exceptions. Maybe there were some amazing albums, but I haven't come across or been introduced to them yet. It's not to say that I haven't been trying to look for new music, I've picked up many new artists and albums, but a lot of them were mediocre or average. I often found myself going back to my old favorites.
Overall I picked up a good amount of new albums over the last 12 months, the following are 10 albums that resonated with me the most. This year, unlike my bare minimal post for the top 10 music albums for 2010, I've shared my thoughts on each album, along with a video, album tracklist, resource links for the band, and links to buy the album from iTunes or Amazon.com. Additionally I finished off the post with honorable mentions for the year that didn't make the top 10 list but are worth checking out. I hope you enjoy my picks for 2011!
Oh and a small forewarning, if you haven't already figured it out I still buy more CDs over digital downloads. I prefer having the actual CDs in my collection to play in my car and home stereo, as well as digitally on my Macs, iPod, iPad, and Apple TV. Additionally, as is often intended by the artists I listen to albums in their entirety. Granted having your music selection on shuffle is great, but it is also important to embrace a full album experience and listen to it from beginning to end without skipping songs. If you've got that music ADD habit, then grow some patience, bit your tongue, and make an effort to listen to a complete album in respect to the artist who created it. Trust me, it's usually worth it.
Also note that this isn't in any specific order, it's not a 1 to 10 list as it is just 10 albums that I enjoyed in 2011.

My Top 10 Music Albums of 2011
Low: C'mon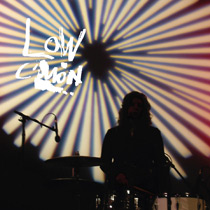 C'mon is easily one of my favorite albums of the year. These masters of the slow core genre have heavily persisted in my music rotation since this album came out. While their albums don't always hit home with me, but when they do, they hit really hard. I've been a long time fan of Low, yet only a few of their albums resonate with me so strongly as C'mon. Much like The Great Destroyer did back in 2005, I've been hooked on C'mon and I can tell you now that it'll be one of my favorite albums for many years to come. Their albums take several listens before it really sets in, but once it does you'll be hooked. Read my full review on Low C'mon here.
Video: Especially Me
Thievery Corporation: Culture of Fear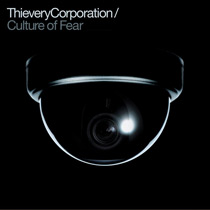 As a long time Thievery Corporation fan I'm always excited to hear new work from the duo of Rob Garza and Eric Hilton. They have a real talent for making amazing lounge style music that mixes in influences of dub, acid jazz, reggae, middle eastern, and bossa nova sounds. Their music always has a top-notch production quality and Culture of Fear is no exception. While this isn't my favorite album of theirs, Mirror Conspiracy continues to be the one that I go back to over and over again, it is still a solid album that is very enjoyable. I feel they've strayed away little bit from their roots with this release and I hope they bring back more of that middle eastern blend of music on their next release. They continue to grow and evolve as a band on each studio release. I've seen the band live three times now and will continue to see them at any chance I get. Each time it seems like they are growing with more supporting band mates when on tour. This allows them a large amount of depth to fully showcase the various music styles from their catalog of songs.
Video: Culture of Fear
Culture of Fear's underlying message is an important one to be aware of and to pay attention how it impacts all of us. How our society, businesses, and government has become more and more of a "big brother" of keeping an eye on all of us. Due to the state of our nation and world over the last decade of terrorism, wars, corporate and political corruption, combined with the uncertainty of the economy has led us to adjust our lifestyles to live in a mild state of constant fear and uncertainty. This combined with our endless addiction to media and devices that are starting to rule our lives instead of us ruling our own lives. You can hear most of this in the title song rap lyrics, it's more subtle throughout the rest of the album. It's important to be aware of this and learn to completely separate yourself from society and all that technology, then reconnect with nature, our souls, and the ones we love. Learn to free yourself of that fear and lead with your heart and soul.
Video: Take My Soul
Moby: Destroyed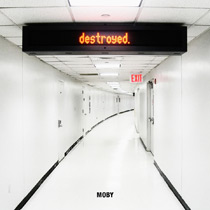 I've been a long time Moby fan, ever since my good friend Athonia Cappelli turned me on to Moby's first self titled album back in 1992. Moby's music continues to evolve and progress with each release, he has a tremendous amount of variety and depth in his music styles, yet he clearly has a very unique sound that is distinctly his. Destroyed is no exception.
While it's not as mellow as Wait For Me, it is mellower when compared to Last Night, overall it's more reminiscent of Hotel. Which would make sense as the songs from both Hotel and Destroyed feel like they were written while traveling on the road. Destroyed took a handful of listens before it really set in with me. As is often the case with Moby's music, there is always lots of layers and depth to hear in each his songs. You won't begin to fully appreciate it until you've given multiple listens, then it starts to grow on you and you get hooked on it. I look forward to what Moby brings us next, in the mean time I'll continue to listen to his entire collection regularly.
Video: Be The One
Poly Styrene: Generation Indigo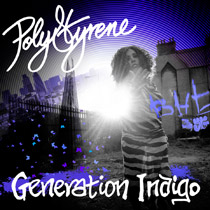 For those of you who live in Southern California, you might know about the fantastic public radio station known as KCRW 89.9 that is run out of Santa Monica Collage. When they are not broadcasting NPR they have their own shows including several music shows such as Morning Becomes Eclectic. KCRW has often been my source for discovering amazing new music. As you can guess by now, this is how I discovered Poly Styrene.
Poly is the singer and songwriter most notably from pioneering punk rock band X-Ray Spex. Generation Indigo isn't her first solo album, I have yet to explore her other work to see if they are as good. That being said, Generation Indigo is a fun album, it's got a good mix of bubble gum, punk, urban, and fun pop songs that are a blast to listen to. It's a great summer or party album, just a good fun collection of songs that gets your head bobbing and foot tapping. For me, Poly Styrene Generation Indigo is a great underground gem that you want to have in your collection of music. Thanks to KCRW for the introduction.
Video: Goulish
Beastie Boys: Hot Sauce Committee Part Two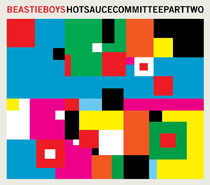 There's nothing out there like the Beastie Boys. They exploded on to the music scene as white rappers that loved to party with Licence to Ill in 1986. While many thought they would be a one album wonder, they showed a great deal of depth with their follow-up album Paul's Boutique. This surprised many critics. Over the years, with each new album, the boys continued to show their passion for exploring and growing not only as crazy rhythmic rappers but as serious musicians. They have evolved and matured a great deal over the years, yet they continue to always have fun and remember to not take life too seriously. You can alway see this in their videos, having fun is key in life.
Hot Sauce Committee was originally supposed to be released in 2009 as Part One and Part Two, but was delayed and then only Part Two was released. This was due to the discovery of Adam "MCA" Yauch having a cancerous tumor in his parotid gland and a lymph node. The boys did the right thing by canceling tours and pushing the album back while focusing on their health and family. You can read more about the turmoil on their Wikipedia page.
While I'm glad when it finally did come out, I'll take any new Beastie Boys music I can, it does sound like the album suffered a bit. It has a great sound but seems to be lacking the focus of the previous albums, especially after the excellent To the 5 Boroughs album. Still, it is the Beastie Boys, and they've managed to get some great songs on here that are worth listening to and enjoying. I hope they can get healthy and get back together to writing new music, in the mean time I'll keep all their albums in my rotation.
Video: Don't Play No Game That I Can't Win
Iron & Wine: Kiss Each Other Clean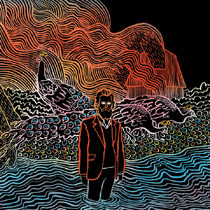 This year I discovered Iron & Wine, another artist that I learned about from my favorite public radio station, KCRW 89.9. It took me a handful of listens of Kiss Each Other Clean to really get into it. Iron & Wine has a pretty unique american folk style that I'm not that familiar with, or at least I don't have much of this style in my music collection. I've always gone back my classic rock and folk favorites to get my fix, like early Neil Young and Crosby, Stills, and Nash. Iron & Wine's singer songwriter Samuel Beam creates an enjoyable compilation of simple and classic harmonies with a modern twist to his style of folk pop songs, each have a unique wonderful musical and lyrical melodies that hook you in more with each subsequent listen. In today's day and age of over produced and poor quality music that is being made, it is very refreshing to hear this style of organic and heartfelt folk music.
Video: Tree By The River (Live From Sunset Sessions)
Coldplay: Mylo Xyloto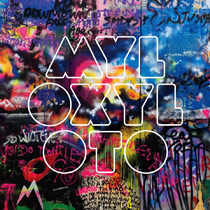 What is up with these odd album names from Coldplay? Viva la Vida and Mylo Xyloto, are they just trying to make a unique name that stands out so it'll be remembered decades from now? At least Viva la Vida had meaning, but Mylo Xyloto has no special meaning, the band said they just made it up and that it sounds fresh. Anyway, I'll take it, as anything new from Coldplay is always great. They've continued to progress their style with each album release, and you can really here it on Mylo Xyloto. This sounds like it'll play exceptionally well live, it has all the perfect beats, melodies, buildups, and hooks for a live concert experience. While I've yet to see Coldplay live in person I think that's what they are going with here as they do draw huge crowds when touring. They always seem very much at home when playing live in front of thousands of fans.
However at the same time, I feel that they've leaned a little too much into the mainstream as their songs have become more inline with popular pop songs, some of which tend to feel a little over produced. They've strayed away from the more heartfelt and soulful song styles of their original albums. It's not a bad thing, as the last few albums are much more acceptable to the mainstream, but I've felt that they have yet to top their original, and still my favorite album, Parachutes. An album that organically resonates with your heart and soul with a wonderful collection of songs. Sometimes I wish they would blend in more of that original Coldplay style in with their new material. Cut back on the over complex production and just let the heart write some beautiful songs. Never the less, I am enjoying Mylo Xyloto a lot and I look forward to seeing what Coldplay will bring us next.
Video: Paradise
Foo Fighters: Wasting Light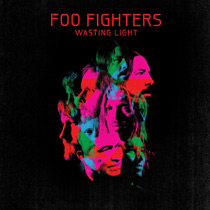 Dave Grohl was a great drummer in the legendary Nirvana, still one of my favorite bands, but he's become an amazingly refined rock musician as Foo Fighters has progressed over the years. By refined I mean his talent for bringing together great band mates and writing smart, well constructed, and addictive rock songs, together with his band.
On Wasting Light, Dave had the brilliant idea of going against the grain in our digital age of perfect music recording and decided to turn his home garage, in Encino, California, into a studio to record all the new songs using analog tape, everything was analog. The entire process of making Wasted Light is in the documentary Back And Forth
, a very enjoyable film. I feel this was a brilliant move as this album explodes with an organic raw power that is harnessed into tight well written rock songs, it comes together unlike any of their past albums. Not to say that any of the previous albums were bad, in fact they were fantastic, especially Echos, Silence, Patience & Grace, and In Your Honor, two of my favorite Foo Fighter albums. In Wasting Light, every song exudes that organic, raw, analog power combined with tight song writing, melodies, and lyrics, to create a powerful combination of great, addictive rock songs.
Wasting Light is easily the best rock album of the year. Although, as I mentioned earlier, I felt 2011 was lacking in the rock/metal genre with the exception this album. It's a rocking album with an addictive collection of songs that you want to listen to again and again. I think this will be remembered as the one of the great rock albums of the decade.
Video: Rope
Nerina Pallot: Year of the Wolf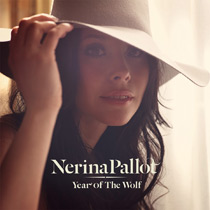 Nerina Pallot is a new artist that I discovered thanks to online blog site Wears The Trousers, a site that I came across this year that seems to focus on female artists that are more in the underground music scene or have yet to break into the mainstream. A surprising discovery that I've been enjoying this year. Year of the Wolf is a fun album filled with fun catchy songs with great melodic hooks, tight pop rhythms, with soulful vocals. Songs that will get suck in your head, have you hooked, and wanting more. Thanks to Wears The Trousers for the introduction to a new musician, I look forward to hearing what Nerina makes next. Read my full review of Nerina Pallot Year of the Wolf here.
Video: All Bets Are Off (Acoustic)
Lovespirals: Future Past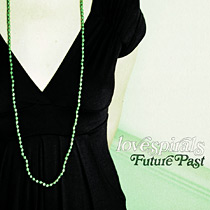 While this album was released in 2010, I discovered the album, and the band, this year. As a long time fan of the band Love Spirals Downward, who stopped producing new material in 1998, I had no idea that lead instrumentalist Ryan Lum made a new band with vocalist Anji Bee and released new music under the name Lovespirals. After discovering this I picked up 3 Lovespirals albums spanning the last decade, including; Windblown Kiss (2002), Long Way From Home (2007), and Future Past (2010).
For me, Future Past, is the strongest of the albums and it really stuck with me throughout the year. The music style is a little less etherial and dark when compared to Love Spirals Downward, instead it is more acoustic with subtle downtempo electronica that creates a dreamy pop soundscape. Soft hypnotic melodies with dreamy vocals in every song always puts me in a good mellow mood. Ryan even pays homage to Pink Floyd's guitar intro from Shine on You Crazy Diamond with Meanwhile, Irreplaceable Time Flies. While I would love to hear a new Love Spirals Downward album, I don't expect it to happen, however I do look forward to hearing what Lovespirals releases next.
Video: Home
Honorable Mentions for 2011
The 10 albums above were in heavy rotation for me throughout 2011, however the following were also regularly in the mix. All of them are great albums, and some could easily be swapped out with a top 10, however for me they didn't make my top 10 for this year.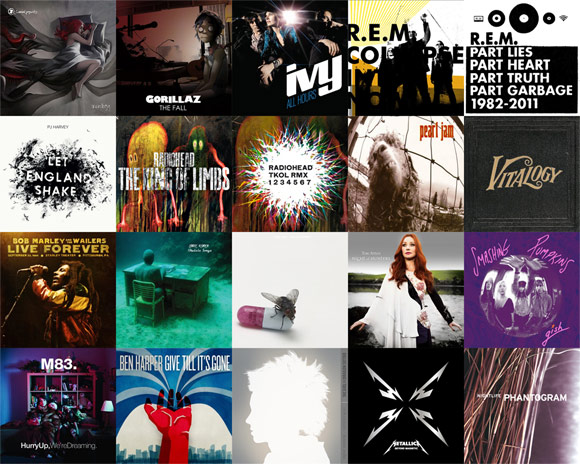 CunninLinguists: Oneiorology
Gorillaz: The Fall
Ivy: All Hours
R.E.M.: Collapse Into Now
R.E.M.: Part Lies, Part Heart, Part Truth, Part Garbage, 1982 – 2011
P.J. Harvey: Let England Shake
Radiohead: The King of Limbs
Radiohead: TKOL RMX 1234567
Pearl Jam: vs. & Vitalogy Deluxe Edition (Anniversary re-release & Featuring Live At The Orpheum, Boston MA)
Bob Marley & The Wailers: Live Forever: The Stanley Theatre, Pittsburgh, PA, September 23, 1980
Eddie Vedder: Ukulele Songs
Red Hot Chili Peppers: I'm With You
Tori Amos: Night of Hunters
Smashing Pumpkins: Gish Deluxe Edition (Anniversary re-release)
M83: Hurry Up, We're Dreaming
Ben Harper: Give Till It's Gone
Trent Reznor and Atticus Ross: The Girl With The Dragon Tattoo
Metallica: Beyond Magnetic EP
Phantogram: Nightlife EP
Three of the albums here, Pearl Jam's vs. and Vitalogy, and Smashing Pumpkin's Gish are remastered deluxe re-releases. While each of these were originally recorded in the years they came out, the fact that they are re-released now warranted listing here for 2011, each are fantastic albums. Especially vs., easily one of my all time favorite albums by Pearl Jam.
Conclusion
That about wraps up the new music I that I enjoyed this year. When I look back in comparison to last years top 10, I feel that 2011 was decent, but not as good, there were some incredible albums in 2010. It's strange, as I re-read my thoughts on each one, I'm criticizing many of the albums because I know those artists have done better and can do better. The albums are great, but I felt a little let down knowing their best work is either behind them or yet to come and that the albums from 2011 are some where in between.
On top of those, I still had all of last years top 10 albums heavily in my rotation along with regularly going back to my older favorite artists including Air, Alpha, Nick Warren, Dave Seaman, Sasha, Underworld, Zero 7, Dead Can Dance, Gotan Project, Jose Gonzales, Lamb, Love Spirals Downward, The XX, Kruder & Dorfmeister, LTJ Bukem, Black Sabbath, Nine Inch Nails, Soundgarden, Bob Marley & The Wailers, along with plenty of R.E.M. after their "Calling It A Day" announcement.
Here's to the new year and new music that comes in 2012. I look forward to embracing what ever comes across my path and giving it a good listen to see if will fall into my regular rotation. If it does, I'm sure I'll be writing about it here next year around this time. Until then I hope you've enjoyed my musical year in review for 2011 and happy new year!
What are your top 10 music albums for 2011? Are any of these on your list? Do you agree with my thoughts on these albums? Please feel free to share your thoughts in the comments below and thanks for reading.
Subscribe: Get my latest journal entries and blog updates from Majamaki.com by subscribing to my RSS feed or subscribe via email.