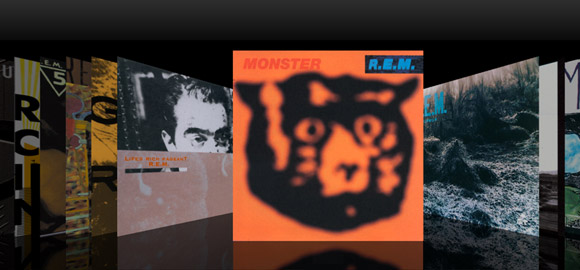 On September 21st 2011, R.E.M. announced that it has decided to call it a day as a band. They have disbanded. I saw this posted on Facebook and immediately I was bummed. I always felt like I was late in learning about the band and getting into their music.  Many people have a strong connection to their early albums when they started out as a young college band. I've been a fan of R.E.M. since the late 80's and really got into the band with their release of Automatic for the People.
In my opinion I think they have passed their prime as the albums of the last decade haven't resonated as strongly with me as the albums from the previous decade. That's not to say they are not good, in fact they are great and I do enjoy listening to them, but for me the earlier albums, especially from the early 90's, are the ones that I keep going back to over and over when I get in the mood for R.E.M. music. Maybe I need to listen to the newer albums more. I do enjoy their whole catalog of albums, but these three albums are my favorites, I can continue listening to them endlessly.
Automatic for the People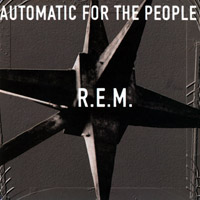 Automatic for the People was the album that really turned me on to R.E.M.'s music. While I knew about the band long before this album, especially with Out of Time's Losing My Religion playing on MTV almost every hour the years before this release, I didn't gain appreciation for them until Automatic for the People. The first two songs, Drive and Try Not To Breathe, both with a hypnotic rhythm and singing style is what made me take a real look at the band and buy my first R.E.M. album.  I must have listen to this album 100 times that year. Even today, I still find my self popping it in to my CD player or in the car, plus I always grab it on our road trips.
There are many classic R.E.M. hits on this album of 12 songs. While the most well known has to be Everybody Hurts, the heart tugging melody that really took the nation by storm and extended R.E.M.'s reach deeper into the mainstream. My other favorites include The Sidewinder Sleeps Tonite, Monty Got A Raw Deal, Ignoreland, and Man on the Moon, each with unique, yet classic R.E.M. melodies, hooks, and lyrics that make for catchy addictive songs that you want to hear again and again. Pepper in a mix of memorable mellow tunes like New Orleans Instrumental No. 1, Sweetness Follows, Star Me Kitten, Nightswimming, and Find The River and you've got a solid eclectic blend of songs that stand the test of time. As the album that hooked me on this band it still stands out as one of their strongest albums for me, timeless.
Video: Drive
Monster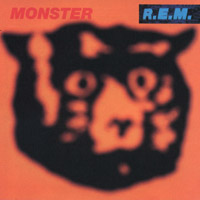 Monster is one of the most original and unique rock albums I've ever heard. R.E.M. departed from their safety net and decided to explore into a heavier psychedelic rock soundscape. This risk paid off well as Monster turned out to be exceptional. While some fans didn't appreciate the departure as much, the album was critically acclaimed. The album resonates their sound, no doubt that it's R.E.M., it's just a more rocking album compared to their previous albums. I found it refreshing and fun, it's a great summer album to blast out your car with the windows (or top if you have it) down.
Rocking, wild, fun, and carefree is what comes to mind when thinking of the 12 songs on this album. Each one can stand on its own, but when listened to as a whole album it's a great ride. I've always favored listening to an album in its entirety instead of just a song or two as many do in this generation. The bands melodies with Peter Buck's thick distorted guitar sounds and catchy hooks in songs like What's The Frequency, Kenneth?, Crush With Eyeliner, King Of Comedy, Star 69, Bang and Blame, and I Took Your Name suck you in and get you're head bobbing. It puts a big smile on your face and reminds you to enjoy life, don't take things too seriously. Remember that R.E.M.'s music does not always have to be serious, while Michael Stipe's lyrics always have a something important to say, it is just as important to have fun. That's exactly what I think R.E.M. has done on Monster. Just rock out and have a blast.
Video: What's The Frequency, Kenneth?
New Adventures in Hi-Fi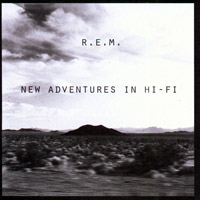 New Adventures in Hi-Fi has an amazing collection of 14 songs from the beginning with How The West Was Won And Where It Got Us, with its hypnotic piano hook, to a classic end with Electrolite. Every song here stands on its own, yet as a whole makes for a great album that you want to listen to again and again. From what I understand this was mostly, if not all of it, written and recorded on the road, while on tour for the Monster album. Apparently they used 8-track recorders to capture their live performances, yet it sounds like a studio album.
It definitely is an organic sounding album that has an eclectic blend of their traditional style of melodies, including New Test Leper, E-Bow The Letter, Be Mine, and Binky The Doormat, with a good mix of Peter Buck's heavier rocking guitar and synthesizer tunes with The Wake-Up Bomb, Undertow, Leave, Departure, and So Fast, So Numb, that have rubbed off from their Monster album. You can hear a good amount of Monster's influence in this album. It is also the last album with drummer Bill Berry. After his departure the bands sound struggled on the next few releases. For me New Adventures in Hi-Fi is the last great R.E.M. album they put out as a whole band. Being on the road often slows us down and makes us more humble to appreciate the simpler things in life, you can hear that in this album.
Video: E-Bow The Letter
Thank You R.E.M.
While I'm sad about the band calling it a day, I am very grateful for their contributions to the world. R.E.M. is one of those rare bands that stands on their own unlike any other. While I'm sure there are bands that attempt to ride on their coattails, no other band has made music like them, or contributed to the betterment of the world. They write and make music with great passion from their hearts and soul, doing what they want, when they want, how they want. Standing by their beliefs has done them well, I have a lot of admiration for the band. To Michael Stipe, Peter Buck, Mike Mills, and Bill Perry, thank you for everything!
R.E.M. Resources
What are your thoughts on R.E.M. calling it a day? Please feel free to share your thoughts below and thanks for reading.
Subscribe: Get my latest journal entries and blog updates from Majamaki.com by subscribing to my RSS feed or subscribe via email.