My first introduction into the electronica genre was in the early 90's through a good friend who turned me onto The Orb's Adventures Beyond The Ultraworld, one of my favorite albums that I'll write about later. However with that introduction I became fascinated with the genre, it was unlike anything I had ever heard before and much of the music style broke away from the conventional pop and rock song structure. These days the genre is filled with many, many sub genres, to many to even list and think about, so I tend to group a lot of music into the electronica genre, including Alpha as the next artist in My Favorite Music series.
Alpha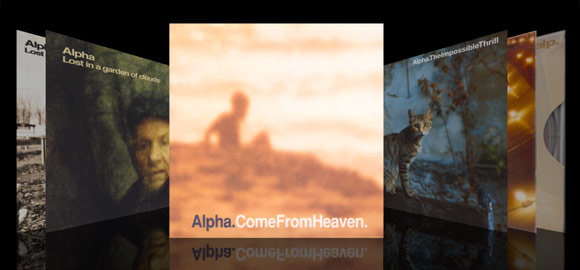 It was Alpha's debut album, Come From Heaven, released in 1997, that swept me away into a new world of sounds with their unique mellow song style. A style that can be difficult to pin point, I guess I could best classify their music style as a mix of downtempo, chill, lounge, and trip-hop electronica topped off with soft stretching heartfelt vocals.
A powerful combination that makes for some incredibly beautiful songs that will put you into a soothing hypnotic trance.
Since their debut release they have continued to record and release new music regularly, and each of their albums are great, but that first album is incredible. Every song on Come From Heaven has a deep soothing and rhythmic baseline, many with piano and keyboards, and other songs that mix in sampling. While the singers Wendy Stubbs, Helen White, and Martin Barnard take turns singing on the songs.
Many people might find the album to be sad or depressing, but for me I find it to be uplifting and very relaxing, it'll always put me in a good mood. Open up a good bottle of wine, turn down the lights, or even better if you have it, light up the fire place, and put this album on a good sound system with enough volume to feel the base. Then sit back, relax, and let it soak in. Give it enough listens and it will seep into your heart and soul and never let go.
It is easily one of my all time favorite albums that I still in my regular rotation, even 15 years later.
As I mentioned the subsequent albums continue their unique sound and style. It's easy to listen to Come From Heaven, The Impossible Thrill, and Stargazing in sequence, each album progresses and matures along nicely. The more recent Without Some Help changes the pace and picks up the tempo with more trip-hop style beats in their songs, some of which are very catchy and fun.
I'm glad they are still producing new music, although it seems like they are starting to go into a slightly new direction with their music style, not bad, actually very enjoyable. I look forward to listening to their future releases. In the mean time I'll continue to enjoy their music collection and I hope that you'll discover them too.
Favorite Alpha Albums
Come From Heaven
Pepper: Remixes & Rarities
The Impossible Thrill
Stargazing
Without Some Help
Video: Sometime Later
Resources
Are you a fan of Alpha? Please feel free to share you thoughts in the comments below and thanks for reading.
Subscribe: Get my latest journal entries and blog updates from Majamaki.com by subscribing to my RSS feed or subscribe via email.