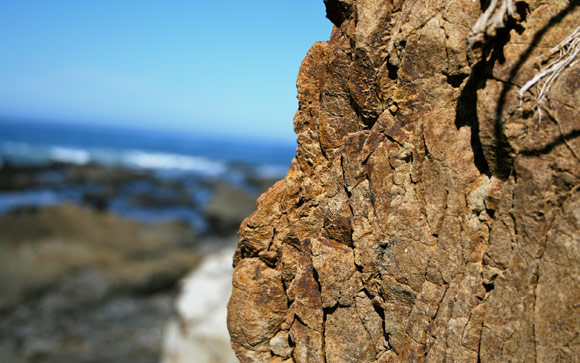 Took this photo back in March of 2009 on a road trip to Cambria, California. We stayed at the Cambria Pines Lodge and hooked up with some friends to go wine tasting in the Paso Robles region. From the lodge, cross HWY 1 and drive down through the coastal neighborhood until you come up on a staircase that will take you down to the this nice little beach with tide pools.  It's a beautiful area that is fairly isolated, a good spot to meditate and simply enjoy the sounds of the ocean.  We snapped off a handful pictures and got some that turned out nice enough to make good desktop wallpaper or screen saver images. This one is the cliff rocks off the side of the staircase looking towards the ocean in the distance.   I always felt was the strongest one for a wallpaper, I made some minor color adjustments to enrich the colors and focus. Enjoy.
Download
Resources
Have you enjoyed Cambria and its beautiful coastline? What are your thoughts on it? Please feel free to share your thoughts below and thanks for reading.
Subscribe: Get my latest journal entries and blog updates from Majamaki.com by subscribing to my RSS feed or subscribe via email.