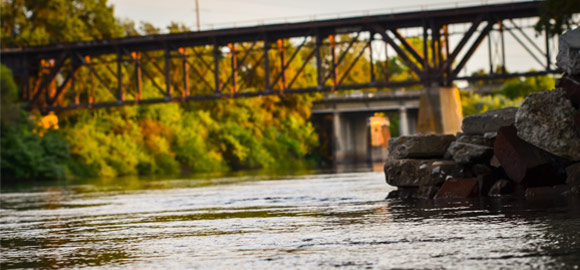 Last time we visited Hauli Huvila during the Golf and Games weekend in early August, I was asked about possibly updating the Hauli Huvila website. The existing site was severely outdated, both in terms of content and functionality when compared to modern-day websites. Not to say it was bad, it served its purpose and provided the bare essential information about Hauli Huvila for visitors. However, after reviewing the site, I realized it could be greatly improved and modernized.
My goal was to create site that clearly showcased and educated visitors about Hauli Huvila.
Over the last several weeks I've been working on building a new Hauli Huvila website. Taking the previous site and using it as the foundation to build a new site, then applying my experiences and knowledge combined with the help of the Hauli Huvila members Riikka, Tiina, and Roy, I was able to build a new site that truly showcases everything that Hauli Huvila has to offer along with exposing more of its Finnish heritage and soul.
I started by breaking the site down into digestible and informative sections and pages. Visually showing off the majestic beauty of Hauli Huvila while providing friendly information to visitors wanting to learn more. Since the original site didn't have a lot of information I wrote most of the copy to help explain and educate viewers about what Hauli Huvila has to offer when visiting.
The new Hauli Huvila site has launched! Come discover and explore the best Finnish camp at haulihuvila.com

— Hauli Huvila (@HauliHuvila) September 29, 2012
Structurally I broke the site down into a few top-level sections including; Home, About, Information, Gallery, Blog, and Contact Us. Providing clear and easy to understand overview of what type of information you will get by clicking into these sections. Then within each section providing additional detailed depth within sub-pages to allow viewers to dive into, explore, and discover.
Hauli Huvila Homepage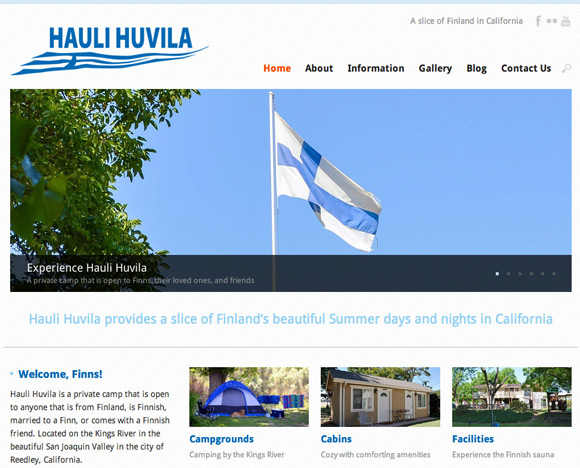 The new homepage provides a strong welcoming for guests and visitors through a large visual slideshow that showcases the essence of what Hauli Huvila is about. Then providing quick access to the most essential information such as campgrounds, cabins, facilities, event dates, and directions that visitors need. It acts as a high level overview of what to expect from the site as they dive deeper to learn more.
About
The About section provides an insight into what Hauli Huvila is about and a little history of how it came to be from Mr. John Hauli who was the original owner of the lands and left it to the Finnish community when he passed away. A goal within the About section was to be able to show the team in the Finnish community contributes to running Hauli Huvila and those who volunteer their time and effort to make it a success. Last within the About section is providing some touch points into the Finnish Community, allowing visitors to discover and learn more about Finland and the Finnish community.
Showcasing the team and volunteers who contribute to Hauli Huvila was key to providing a sense of community.
Thank You!
A big thank you to Roy for helping me to put the names with all the faces in the Team and Volunteers section. I would have not been able to do it without his help, he seems to know the names and faces of everyone that visits Hauli Huvila. Roy also helped in transcribing and translating Mr. Hauli's guideline letter.
Information
The Information section is the most important as it provides full in-depth information about what Hauli Huvila has to offer for its visitors. Providing information about the campgrounds, cabins, facilities, activities to enjoy, key event dates, rates, directions, and more. Instead of trying to cram all the information into a single page, I decided that each needed to have its own page that provide clear focused information and photos about that feature.
I wanted to empower viewers to learn about why Hauli Huvila is the best Finnish camp to experience.
As I started working on the Information section I wanted to have a strong visual layout of the camp property. So using my memory of the property combined with Google Maps satellite view, I was able to make fairly accurate map that outlines the property, including all the buildings, campground locations, and parking. This really helped me to focus on each of the core features of Hauli Huvila and put together their own pages.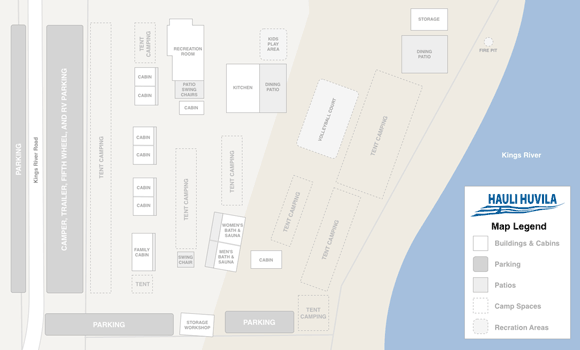 From the original map, I created several versions that highlight sections such as the campgrounds, cabins, facilities, and parking. Using these on the site provides clear information and instructions for visitors coming to Hauli Huvila, especially first time visitors. This way they know what to expect and feel more at home when they arrive.
Thank You!
A big thank you to both Riikka and Roy for answering my questions and providing information about Hauli Huvila. I would have not been able to write-up everything that I did without their input and help.
Photo & Video Gallery
The other big section of the new site is the Photo & Video Gallery section. During any of the event weekends and even the volunteer work talkoot weekends someone is usually taking photos and sometimes a few videos. Being able to share these on the site is key to showcasing what Hauli Huvila and the community atmosphere is really like.
Showing how we relax, have fun, eat, volunteer, work, and just enjoy life when at Hauli Huvila.
My goal was to be able to easily build photo gallery pages that provided a nice slideshow feature for viewers. I decided to utilize Flickr to host all the photos and then through the use of Flickr sets to organize the photos into galleries which are then pulled into the new site. I also created a Flickr Hauli Huvila Group which anyone can join and add their own Hauli Huvila photos. For the videos I created a Hauli Huvila YouTube channel to become the central hub for all our videos, then simply dropping them into the gallery pages. The combination of the two, along with Photonic Gallery plugin made for an elegant solution that links all of it together while providing good control and flexibility.
We now have our own YouTube channel at youtube.com/user/HauliHuvi…

— Hauli Huvila (@HauliHuvila) October 1, 2012
Now in the Photo & Video Gallery section we have individual galleries by each event date; Memorial Day, 4th of July, Golf & Games, and Labor Day weekends, for each year going back to 2008. In addition to the holiday galleries there are galleries for the Spring and Fall Talkoot work weekends. I felt it was important to include these because it showcases another side of the Hauli Huvila community through the volunteer efforts of people that contribute their time and efforts to make it a success.
Through the galleries you get to see both sides, the fun vacations and the volunteer efforts of the Hauli Huvila community.
Thank You!
A big thank you to Tiina and Roy, many of the photos are from Tiina's own photo collection and she allowed us to use them on the new site, while most of the videos are from Roy. The gallery section would not be as complete without their contributions.
Blog
The blog section provides a way for us to continue to grow the Hauli Huvila site and provide relevant information such as news stories, articles, announcements, and new galleries. While right now it is mostly populated with all the galleries, there are a few blog posts that I put together about Hauli Huvila being talked about elsewhere online. I have a few other articles in mind including doing a write-up about the Finnish Sauna and possibly some traditional Finnish foods, so stay tuned.
Word Press, Gravity Forms, & Photonic Gallery
As you might have figured out, the new site is running on Word Press. I've really come to appreciate the functionality and community that Word Press provides. The themes and plugins available from the community for Word Press provide a powerful platform to build great websites. I'm using the Blocked theme, which is great, but unfortunately no longer supported. The developer had to retire due to personal reasons, so any fixes or issues I need to figure out how to fix myself. Which is fine, I've managed to do some of them without any problem.
The Gravity Forms plugin has come in very handy on this site. Throughout the Hauli Huvila site there are custom forms that help viewers reach out and contact the Hauli Huvila team for additional information, support, and requests. Including forms such as the Cabin Lottery, Rates, Membership, I Volunteered, Volunteer, Gallery Requests and Contact Us. As I mentioned in my Great Wall of China Marathon post, this is the best form tool I've used and it continues to showcase how awesome it is.
The Photonic Gallery plugin is another key plugin that made this project come together. Providing the best solution combined with the use of a Flickr account to easily add photo galleries to the site. The Photonic Gallery plugin allows you to pull photos from Flickr, SmugMug, Picasa, and 500px accounts. This way we are not using Word Press to manage the photo assets, instead your using one of these services which do an excellent job of handling and managing photo assets.
There are other plugins used to create the site, optimize, and improve its performance, these are the key plugins that help bring the site together.
Hauli Huvila Launch & Thanks
The new site launched this past weekend. Overall I am very pleased in how it turned out, I feel it truly captures the essence of what Hauli Huvila is and clearly showcases why it is the best Finnish camp to visit. While it is not 100% perfect, there are some things I still need to iron out, but for now it is a great improvement over the previous site and good enough to launch. If you happen to notice any oddities or issues please let me know, you can use the contact form on the site, send me an email or message on Facebook. I want to contribute to the growth of the site by creating more content and possibly adding more features in the future.
Hauli Huvila is a slice of Finland in California.
Again a huge thank you to Hauli Huvila members Riikka, Tiina, and Roy. Without their contributions and help I would have not been able to make the site as complete as it is, thank you Riikka, Tiina, and Roy!
If you haven't already done so, hop on over to the Hauli Huvila site and check it out for yourself. Don't just hit the home page and bounce out, browse around and see everything that it has to offer. As you dive into the site you'll soon wish that you were Finnish (if you're not, find a Finnish friend) and want to visit Hauli Huvila.
Thank you for reading my post about the new Hauli Huvila site. Please feel free to share your thoughts about my work and the site in the comments below.
Subscribe: Get my latest journal entries and blog updates from Majamaki.com by subscribing to my RSS feed or subscribe via email.