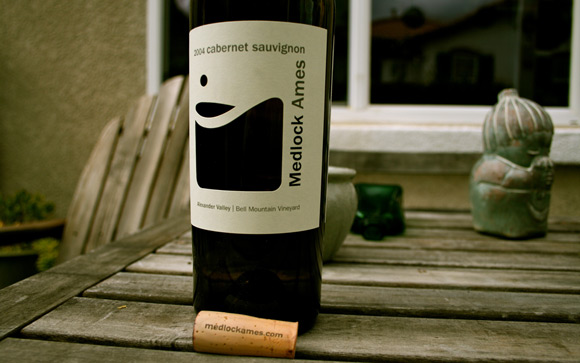 Over the last year or so I've been introduced to many great wines, wineries, and wine makers through wine.woot. Medlock Ames is one of them and I'm very happy to learn about them and their amazing wines. While we have yet to visit their winery and tasting room, we have enjoyed their wines throughout this year.
They're located in Alexander Valley on Bell Mountain, just outside of the Sonoma county town of Healdsburg, California. Heavily focused on being sustainable and organic, they produce a standard choice of exceptional wines. Two of these wines really stand out for me, their Red, a vintage blend of Merlot and Cabernet Sauvignon, plus a very refreshing and lively Sauvignon Blanc.
All of their wines are fantastic, so good that I had to join their wine club, however these two are the real rock stars for me.
We are looking forward to the day we can visit their winery and tasting room. From what I understand they are also great cooks and good down to earth people who love to make good wine and good food. How can you not love that?
Today I'm enjoying their 2007 Merlot. I'm not about to start writing up about how it taste, I'm not that kind of wine reviewer. I don't know how people can write about wine and all the flavors and tastes that come out of it, all I know is that I like it a lot and I enjoy it. If you enjoy fantastic wine, then order some of their wine.
The bottle pictured here is a 2004 Cabernet Sauvignon that I photographed on March 27th of 2011. I love the way this photo turned out so I've decided to offer it in desktop format for you to enjoy.
Download
Resources
For those of you unfamiliar with wine.woot.com, they offer a different wine deal every weekday. Usually these deals are really good on some great wines, however if your unfamiliar with a wine simply read through the blog post comments and you'll quickly find out if it's a an exceptional wine to buy or something to pass. Now that's not to say you'll like wine that people are raving about, since taste is subjective to everyone's own taste buds, it will at least give you some general direction if its worth trying out. The deals are always worth it, usually 20% to 50% off a bottle with $5 shipping.
Have you enjoyed Medlock Ames wine? What are your thoughts on it? Please feel free to share your thoughts below and thanks for reading.
Subscribe: Get my latest journal entries and blog updates from Majamaki.com by subscribing to my RSS feed or subscribe via email.